Caribbean holdem Poker Online Guide and Strategy
You rarely see diamond-encrusted bracelets or pyramids of cash being awarded to Five-Card Stud players nowadays. The spoils, the fame and the fortune all go to the Texas Hold'em pros so Bodog's decided to take Caribbean Poker up a notch and level the game playing field. This variation on the classic Texas Hold'em game is all about small stakes and big wins, especially when you consider the hefty progressive jackpot to be won. Learn how to play Caribbean Hold'em Poker and walk away with a nice bundle of cash should you play your cards right.
How to Play
Choose your wager amount ranging from $1 (minimum), $5, $25, $100 and $500 (maximum) then press Deal. Both the player and dealer are given pocket cards. Two cards face up for the player; two cards face down for the dealer. Three community cards are then placed in the middle of the table for the dealer and player to share, called the flop. After the flop, players can decide whether they want to Raise their original wager to keep the game going or Fold, to end the game. If a player raises and the dealer's hand qualifies (with a pair of fours or better) the one who can make the better five-card hand wins. Yep - just like Texas Hold'em.
Card values
Hands are ranked according to standard poker rules.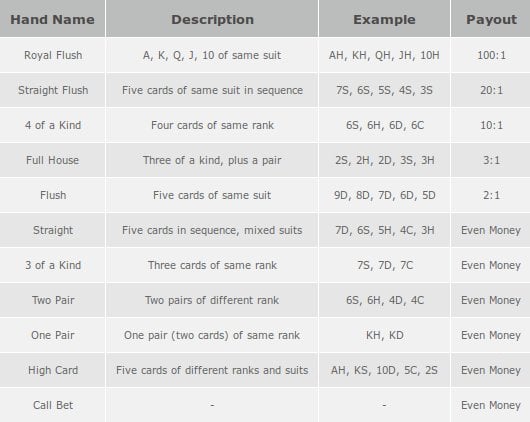 Progressive Jackpot
Just like Caribbean Stud Poker there is a lucrative progressive jackpot to be won if a player wagers an extra a dollar on the red circle before pressing the Deal button at the beginning of the game. If the player doesn't bet an extra dollar, they won't be eligible for the progressive.
Only five hands qualify for the progressive jackpot: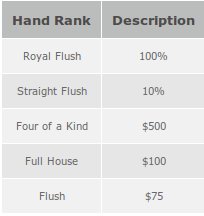 Buttons/Actions
Deal - Used to start the game after the player has placed a bet.
Raise - Used to make an additional bet that is twice the ante. In the downloadable version, click on the Call button to double the ante.
Fold - Used to forfeit the ante and end the game.
Good luck !!!