Pai Gow Poker Online Guide and Strategy
Born out of Chinese dominoes in the Song Dynasty of 1120 AD, online Pai Gow Poker takes the East Asian game, adds an American twist and makes it an enjoyable and fun game for all to enjoy. It is played with 52 cards and one joker.
Once the player and dealer are dealt seven cards, the player must attempt to beat the dealer by making the best five-card and two-card hand. If both of the player's hands beat the dealer, victory is theirs.
Pai Gow poker is a combination of Chinese history and American ingenuity. Log in and enjoy.
How to Play
The player selects the amount they would like to wager ($1, $5, $25, $100 and $500. Maximum wager is $500) and clicks Deal. Seven cards, face-up, are dealt to the player and seven cards, face-down, are given to the dealer. The player selects two cards to make up their two-card hand by clicking on their choices (keeping in mind that their five-card hand must be stronger than their two-card hand) then clicks the Split button.
The one with the best two hands wins the game (standard poker card rankings apply). If the player loses one of two hands it's considered a push and their wager is returned. The dealer wins any tie.
The strategy of the game involves deciding what two cards to give up without hurting the five-card hand. There's also a joker available in this game that works as a wild card that can complete straights or flushes in any other case, it counts as an Ace.
Ranks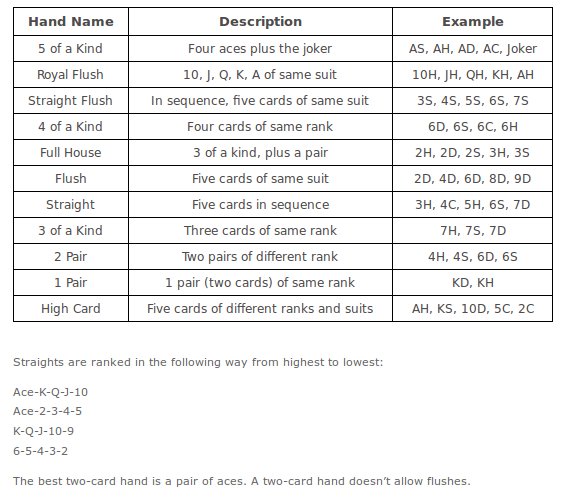 Payouts
Players are paid 1:1 minus a five percent commission.
For example, if you bet $5 you can win $4.75 for a total of $9.75.
Buttons/Actions
Deal - Deals cards for you and the dealer. All bets are final once clicked.
Split - Splits your seven cards into two hands. Click the two cards you want for your two-card hand or the button is not available.
Rebet - Allows the player to wager the same chip value as the previous game.
Good luck !!!