Caribbean Stud Poker Online Guide and Strategy
You've seen poker played with seven or five cards, but with Tri-Card Poker, this online Table Game proves you only need three cards to have good time. Place your bet, check your hand then decide whether to raise or fold. Tri-Card Poker is the perfect game for the poker enthusiast looking for a quick round of cards.
What sets the game apart is the ability to ante, raise and bet on the Pair Plus Feature, which can pay up to 5-1 odds. Get a taste of Tri-Card Poker now.
How to Play
Choose the wager amount ranging from $1, $5, $25, $100 and $500 then click Deal.
The player gets three cards face up and the dealer gets three cards face down.
The player must decide if they want to raise and double the bet.
The player can fold and lose only the original ante.
Dealer wins if they have at least a queen high.
Player wins if dealer has less than queen high.
Features
Pair Plus: it's a separate bet that wins if the player's hand has a pair or higher.
Payouts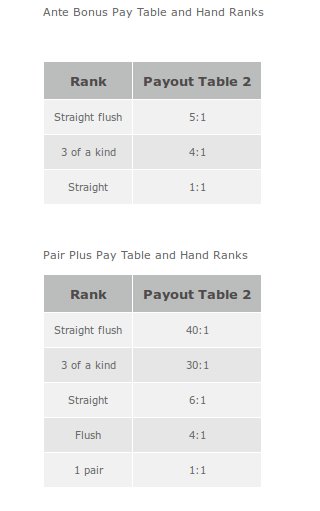 Buttons/Actions
Bet - To place the ante, the player must select Ante and then a chip value. To place a Pair Plus bet, the player must select Pair Plus and then input the chip value.
Deal - Used to start the game after the player placed their initial bet.
Raise - An additional bet that is equal to the ante.
Fold - Forfeits the ante and Pair Plus bet and ends the hand.
Rebet - When a hand is complete, the player has the option to rebet the same amount previously bet.
Good luck !!!