Crazy Jackpot 60,000 new slot
If you're a slots lover and feel you spend too much time between wins when all you really want to do is hear the win jingle, then we have just released a brand new game that will fit you like a glove.
Crazy Jackpot is simple, engaging and fun. Designed for those who don't have patience for all those special effects, funnies and inbuilt cartoon shows, Crazy Jackpot 60,000 is pure, uncompromised slot machining at its best.
But before going into the gameplay, a word or two about the MMI –"man-machine-interface" or "how it looks" to the less tech-minded among us. The imagery is clean, authentic and classic. You can spend ages absorbed in the hypnotic effect of the synchronized light bulbs, the glint of light reflecting off the metallic blue rounded reels and the tasteful gold and black trim of the panel.
Crazy Jackpot 60,000 consists of 2 sets of reels, the first being a 3-line display, 3-reel fruit machine, which functions as a 27-line slot because a winning combination is hit when any symbol appears in any position in all 3 reels. Spins come at a fixed price of 25 credits a spin. Wins are compounded and that means if a winning symbol appears twice on a reel, each occurrence combines with the same symbol on the other reels to double the win – or triple it in the case of 3 symbols on a reel. Payouts for the same symbol on each reel range from 2 to 40 credits. The great thing about the low payouts is that they are very frequent, so there's always something good happening just down the road, and due to the 27 different win combo's, multiple wins are commonplace.
The frequency of wins is raised still more, with the help of the wildcard Joker and if you get a joker on all 3 reels, there's an added bonus payout of 100.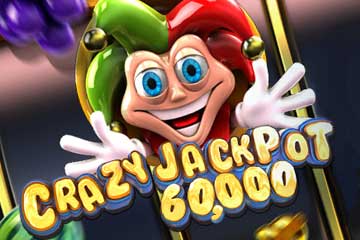 And Now, the Crazy Jackpot
Land a win – any win, on the regular spin (and that's doesn't take long) and the crazy reels bulbs light up. Your focus is now on the 2 previously quiet reels on the right, which now come alive. These could boost your current win by up to 50 times! Spin the first reel to see if you can win a bonus multiplier for your win – up to x5. If you don't land a multiplier, you keep your win as it was, but if you land a multiplier, you immediately get your win increased AND the second crazy jackpot reel is automatically set in motion, with possible extra multipliers of your win so far, up to x10. The worst thing that can happen to you at this stage is that you stay with only you original win multiplied by the first multiplier found.
To summarize this game, it's a glorious fruit machine that retains the classic feel of the traditional slots. It's simple, fun to play and keeps the wins coming fast and plentiful.
 Play Crazy Jackpot 60,000 Slot for free
Crazy Jackpot 60,000 Slot Demo
Best BetSoft Casino

100%

100%

2222%

400%

1000

$300 €

$1200 €

$250 €

$500 €