BingoSKY is running three special promotions this month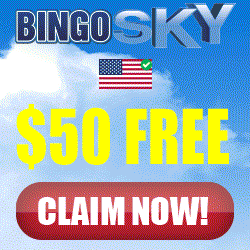 Marilyn Monroe $5,000 Full house –  18th July
We're rolling out the red carpet on Saturday, July 18, in the BingoSKY Candy Frenzy Bingo 90 room for the gorgeous Hollywood star Marilyn Monroe as we play for fabulous $5,000 Full house game. This fun filled B90 bingo game brings an unmissable $5,000 in cash to be won and has a ticket cost of just $0.50 a ticket. Invite players to join in the B90 bingo fun at 5 p.m. EDT for a chance to win a fabulous cash prize, and BingoSKY will give a fantastic Buy 8 Get 4 Free on all bingo tickets to Marilyn's Monroe's $5,000 game.
Ice Cream Bingo Tourney – till 31st July
There's plenty of chance to cool off this month with BingoSKY's tasty Ice Cream Bingo Tourney. Playing all month long, players must look out for the special games playing in the Summer Bingo room and they could win a cool $1,000 cash prize as the tourney winner. With $4,000 in guaranteed prizes to be won and prizes for the top 20 players who win the most Ice Cream Bingo Tourney games, an extra serving of Bingo fun and excitement with a fabulous Buy 6 Get 3 free offer on games in the Summer Bingo room an extra chances to win a cool $1,000 cash in the Ice Cream Bingo Tourney.
Happy Hour – all month
They say that it must be Happy Hour somewhere, and at BingoSKY it is Happy Hour every night of the week between 9 p.m. and 10 p.m. EDT in their Summer Bingo room. Filled with low-cost cards and fantastic cash prizes up for grabs, there's no happier way to spend evenings. Happy Hour would not be the same without a fabulous offer, and BingoSKY have an unmissable Buy one get one free offer on all cards in the Happy Hour bingo games. With back to back Happy Hour Bingo fun and excitement guaranteed daily in the Summer Bingo room, invite players to join their bingo buddies for the Happiest Bingo fun at from 9pm till 10 p.m. EDT every day at BingoSKY.