Guts Casino Bridesmaids Bridal Bash promotion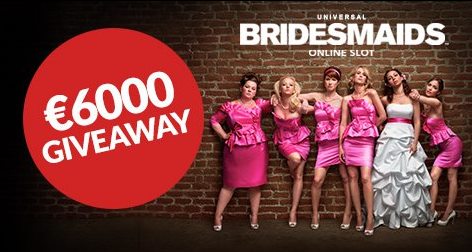 Microgaming's brand new slot is based on the hilarious 2011 Universal movie! Bridesmaids Online Slot is live in Guts casino and players can win fantastic "His or Her" prize packages! Every €50 wagered on Bridesmaids gets players 1 ticket in the raffle. The promotions starts  at 6th August and the final draw will take place on September 3rd.
Oh my god, oh my god! Lillian is getting married! Microgaming's new slot based on the 2011 Universal movie Bridesmaids™ embarks on a journey with Annie, Helen and the hilarious characters from the movie. The goal – the wedding of course! If you loved the movie like we did, you have a new video slot favorite right here!
The game has the authentic Vegas feel to it. 5 reels, 4 rows, 40-lines and a jackpot bonus wheel! Get the cupcake bonus, win big or unlock a possible 4 different bonus games: Friendship Free Spins, Flying High Free Spins, Boutique Bonus and Magic Moments Bonus all gives you big laughs and big wins!
By now you know you have to check this brand new game out and by doing so, you can win some fabulous prizes! Starting today, every €50 (35GBP, 55USD) you wager at Guts Casino on Bridesmaids™ gets you one ticket in the draw. There will be 4 draws altogether. There's €750 (525GBP, 825USD) cash in each of the first 3 draws, but the 4th draw holds the grand prizes. Winners will get a choice of spoiling themselves or a loved one with a special "his or hers" prize package. Here's what you can win in the September 3 Grand Prize Guts Draw:
1st prize: Macbook Air and iPhone 6 OR €2000 (1400GBP, 2185USD) travel voucher
2nd prize: Macbook Air OR designer handbag worth €1000 (700GBP, 1090USD)
3rd prize: iPhone 6 OR €700 (490GBP, 765USD) spa package
4th prize: 64GB iPad mini OR €700 (490GBP, 765USD) Tiffany voucher
5th prize: Bose mini speaker OR Radley Cherry Blossom Dog medium suitcase
Here is what you do:

Play Bridesmaids™ between 6th August 00.01 CET – 2nd September 23.59 CET

For every €50 (35GBP, 55USD) you wager, you get 1 ticket in the draw.

Draws will be held on 13th August (€750 cash (525GBP, 825USD)), 20th August (€750 cash (525GBP, 825USD)), 27th August (€750 cash (525GBP, 825USD)) and 2nd September (His OR Her prize packages). Winners will be contacted the following day.
Terms and Conditions
The promotion will commence on 6th August 2015 and will run to midnight BST on 2nd September 2015.
For every €50 (£35, USD55, AUD70, NZD75, CAD75, 420NOK, 480SEK ) a player wagers on Bridesmaids™ Online Slot during the promotion period, they will receive one entry into our Promotional Draw.
Only real money gameplay qualify for the promotion.
The draw will take place on Monday 3rd September 2015. Should any players from Guts be winners, we will contact you directly to make you aware of your prize.
Each winner in the final draw is asked to choose one of two prize packages
The actual prizes in the packages may vary slightly from those advertised.
We will need your full postal address within 7 days of the draw to arrangge for the prize package to be sent out. Should we be unable to contact you and/or verify these details within the stated timescale, a re-draw will occur where the previously drawn raffle ticket will be invalid.
By accepting a prize, you agree to your first name, initial letter of your surname and your location to be used by us and any related third parties operating or running the promotion, without any additional compensation.
It is the players' responsibility to ensure that it is legal for them to play Bridesmaids in whichever jurisdiction they are gambling and taking part in the Bridesmaids promotion.