Looking for an easy way to pocket a $10 casino chip at Slots.lv ? Try The Facebook Freebie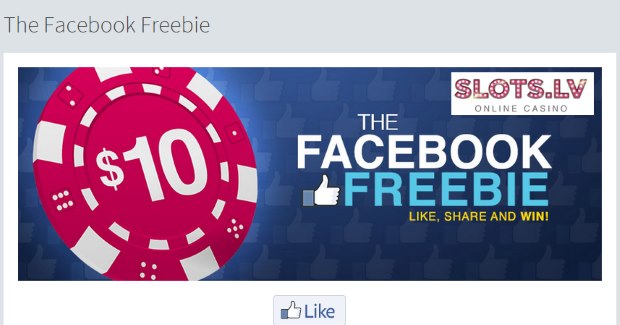 Stay in the Slots.lv loop by joining our social circle and we'll send you a $10 Facebook Freebie. Simply Like Slots.lv Facebook page, share Slots.lv profile picture and message us your Slots.lv account number. Like, share and win today and use your $10 freebie to discover all the thrilling games Slots.lv have to offer. 
If you're looking for an easy way to pocket a $10 casino chip, then you've got to check out the Slots.lv Facebook Freebie promotion. The popular online casino has hosted a web community for a while now, and if you aren't yet a part of it, now is the perfect time considering that they're handing out $10 chips to anyone who joins their social media hub. 
If you're interested in snapping up that $10, all you need is a Facebook account. Simply Like the Slots.lv Facebook page and share their profile picture.
After you send the casino a personal message containing your account number, you'll see a $10 casino chip added to your account. The best part is you don't need to make any deposits to use your bonus.
Simply Like, Share and get rewarded. Using this chip can earn you up to $100 in winnings after meeting the 100X playthrough requirement. 
You can use the chip to play your favorite online slots, Keno, or even scratch cards if that's more your thing. On top of getting the free chip, being part of the Slots.lv Facebook community comes with its own benefits. You'll see fun perks and prizes published on their wall, so you can continue to reap the rewards simply by being a member.
You can find the Slots.lv Facebook page here: https://www.facebook.com/SlotsLV