Return of Unibet Prize Drop in August!

Unibet Prize Drop returns in August and you can win a share of €50,000 in prizes just by playing at cash game tables.
This is how it works
Every day in August prizes Unibet will be awarded randomly to cash game players. To win a prize, players just need to be seated at a cash game table which is randomly selected for a Prize Drop. If a player's table is selected for a Prize Drop a special animation will appear at your table. All Unibet players sat at that Prize Drop table will automatically win the same prize.
Prizes
A total of 286 cash game tables at Unibet will be awarded a Prize Drop between August 1st-31st.
Altogether Unibet will give away over 1,400 prizes worth a total of €50,000.
These will include cash game and tournament tickets plus instant cash prizes.
How to check prizes
From 1st August you will see a Prize Drop icon at the top of the Unibet poker lobby.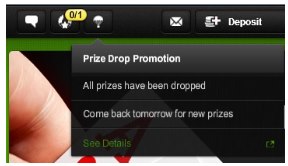 By clicking on this icon each day you will be able to check which prizes are due to be given away that day and which tables will be eligible. Make sure you check the available prizes each and take part in Unibet cash games for a chance to win big.
Terms & Conditions:
This promotion will run from August 1st – August 31st 2015.

The promotion is available at Cash Game tables only.

All prizes are allocated to random cash game tables at the eligible stake ranges and will be different each day during August.

The more eligible tables you play during the day, the greater your chance of winning a prize.

The prizes are given out at random times during the day.

Each player at the table wins the same prize, whether they are in a hand or not, at the moment the Prize Drop takes place.

All prizes will be credited instantly.

General Unibet Terms and Condtitions apply.

In the event of inconsistency or discrepancy between the English version and any other language version of these Terms and Conditions, the English language version shall prevail.