Slotland Celebrates 10th Anniversary of its First Mobile Jackpot Winner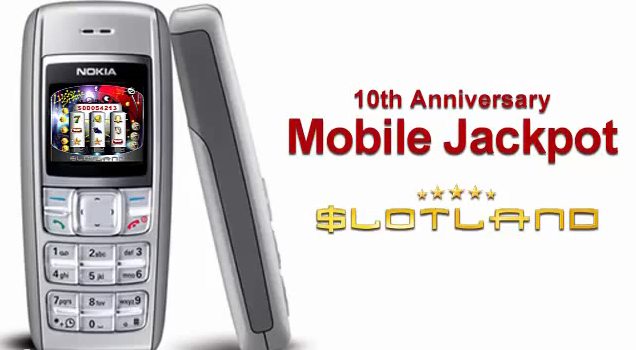 $15 freebie now available to try mobile games
March 12, 2015 (Press Release) – Even before today's smartphones, mobile casino pioneers like Slotland (http://www.slotland.eu) were developing games for early mobile phones. Slow and awkward by today's standards, it was on one of these archaic devices that Slotland had its first mobile jackpot winner ten years ago today.  On March 12, 2005, a player won a record-breaking $163,114 progressive jackpot playing one of Slotland's earliest games, its first mobile slot game, Lucky Stars.
Slotland had only just launched its mobile casino platform and this was the first time anyone had hit a jackpot playing on a mobile phone. 
"When I think how excited we were to play slots on those little tiny screens," said Slotland's manager, Michael Hilary.  "Imagine what we'll be playing in another ten years!"
"I am a gadget freak! I love all sorts of electronic items, and so of course I had a nice mobile phone with all the extras," recalled the historic jackpot winner.  "When I first joined Slotland there was only one mobile game, Lucky Stars. I had a few good wins on it and I was able to cash out $200 on one of my first $100 deposits, so I kept coming back."
The winner recalls that day ten years ago: "That Sunday, my wife took the kids to church and I told her I wanted to stay home. I fiddled around for an hour or so, cleaning up and stuff, before I decided I better get some playing time in before they returned. I started with Golden 8."
"After about an hour or so of play, with little change in my bankroll, I felt it was time for Lucky Stars. I already had two of my three stars lit up. It wasn't more than 15 minutes before I lit up the third star and I couldn't believe MY lucky stars when the bonus spin produced THREE BARS across the fourth pay line!  Just like that, I had over $163,000 in my account!"
His wife had plans for most of it, but he kept $5,000 of that win to just blow on more gadgets.
To celebrate this mobile milestone, Slotland has a special mobile casino bonus available until the end of the month.  Players can get a $15 freebie to play mobile games by claiming bonus code MOBILEMAGIC.
 Slotland's 34 real money online slot games are available only at Slotland.  They're all compatible with most smartphones and tablets.  With the site-wide progressive jackpot currently over $180,000, the unique casino is looking forward to celebrating another big winner soon — possibly another mobile casino jackpot winner.
About Slotland.eu (http://www.slotland.eu)

For more than 15 years Slotland has offered innovative, one-of-a-kind online slots games and video poker games. Established in 1998, it's one of the most popular and trusted online casinos in the world and is renowned for its amazing customer service. Slotland.eu's progressive jackpot is one of the most often won jackpots on the internet, paying out over $100,000 frequently and regularly. A pioneer in mobile slots, Slotland's HTML5 technology plays as well on mobile devices as online. Slotland SA also operates WinADayCasino.eu which features more absolutely unique slots games.