Slotland Player Hits $207,619 Progressive Jackpot as Casino's 17th Birthday Party Kicks Off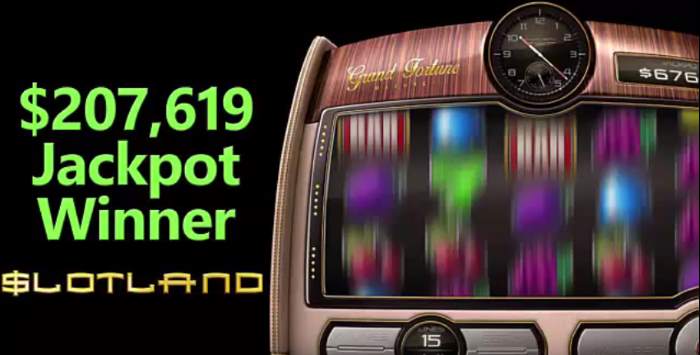 October 15, 2015 (Press Release) – Slotland 's Casino  17th birthday celebrations got off to a great start last week when a player hit the jackpot playing the Grand Fortune slot.  Charles M. won the site-wide progressive jackpot that had climbed to $207,619. A car buff, he said he'll treat himself to a new car – and pass his current car down to his teenage son. 
Slotland's 17th birthday celebrations continue through October.  A draw at the end of the month will award $6500 in birthday bonuses. All players that deposit at least $75 between October 16 and 31 will be included in the prize draw. 
"I love cars so that will definitely be one or two of my first purchases!" the jackpot winner told a Slotland customer service representative, "My teenage son will love that too because I'll hand down my old car to him!" 
"Once I won about 3000 bucks.  That was nice but this is so much better!" he said.  "I was totally dumbfounded when I realized what I'd won. The next morning I woke up so excited I stopped at a car dealer on my way to work thinking what new car to buy."
Charles said the whole family is excited about his good fortune on GrandeFortune. 
"We're looking forward to a family vacation. I have always wanted to see the Great Wall of China. Right now we're all voting for different places so we'll take our time deciding."
GrandFortune, a retro-style fruitie with a free spins feature, was just launched last fall and this is the first time the site-wide progressive jackpot has been won on this game.  Charles hit the jackpot when he'd placed a $20 bet and spun five Bar symbols 
"We're so excited to have had a big jackpot win during our 17th birthday celebrations," said Slotland manager Michael Hilary.  "And with a new game coming out before the end of the month, this will certainly be a birthday party to be remembered!" 
Slotland expects to launch a new hunting-theme slot with a sticky expanding wild later this month.  The new game will also have a symbol replacement feature that changes regular symbols into Double Wilds and boosts chances of winning.  At the moment, Slotland has 35 real money online slot games, all available exclusively at Slotland. They're all compatible with iPhones and other iOS devices as well as Android smartphones and tablets.