Slots.lv Game Reviews: A Switch in Time & Rock On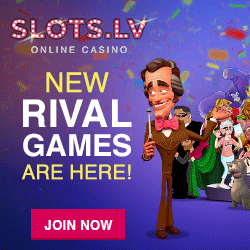 Whether you're into Rock & Roll or fancy yourself a mad, time-travelling genius, there's a little something for all your interests with A Switch in Time and Rock On. Play them now at Slots.lv Casino and see why it pays to burn through space and time, rocking your guitar solo all the way to the seven heavens.
Here's the lowdown on why you should take the time to play these slots:
A Switch in Time
A Switch in Time is actually one of the first i-Slots developed by Rival Gaming and, despite the influx of all kinds of new games and themes, it still ranks as one of the most engaging slot games out there. That A Switch in Time has actually weathered the test of time speaks to the game's durability, quality and engaging features that hook players from the get-go. The 5-reel, 20-payline slot game features striking symbols representing major historical events, an expanding wild symbol, free spins and a Past or Future Bonus Round— all making for lucrative gameplay. What's great about the bonus round is that, in addition to improving your wins, the Past or Future round actually has its own free spins and multiplier, which significantly increases your chances of hitting those big wins.
WORD TO THE WISE: Play your way to five Lady symbols on the reels – trigger them in this configuration and you'll actually land up to 78 free spins at a 9X multiplier.
Rock On
Rock on with this hard core slot game that'll have you head banging and mosh-pitting your way to some really lucrative wins. With Classic Rock as the dominant theme, this 5-reel, 20-payline slot will have you backstage with Rock legends the likes of Elvis, Hendrix, George Harrison and many more. With great background music to really get you in the mood and engaging visuals (the reels actually burst into flames as they spin), this game's set to rock your socks off.
Since Rock On only offers three coin types—0.01, 0.05 and 0.10—bets can be fairly low for this game, which is great because it makes it accessible to all players, regardless of their bankroll. We're also fans of the expanding wild symbol, the Green Base Guitar, which will expand to fill the reels to form a winning combination whenever possible. That's a serious boost to your bankroll – maybe even your ego, if you're anything like Hendrix.
WORD TO THE WISE: Keep your eyes on the prize. You want that 4,000 coin progressive jackpot? So do we. Watch the reels like a hawk for the Red Electric Guitar.