The Casino Challenge goes Miami Vice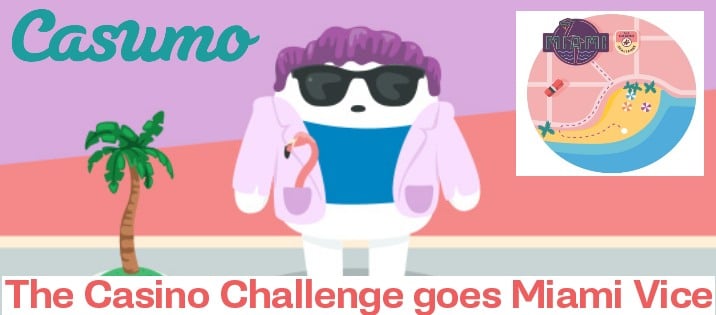 Spin yourself all the way to M-i-a-m-i!
What :
The Casino Challenge by Casumo
When: 18th May – 9th June
Who:
Everyone who has a Casumo account can join
Levels & top prizes:
Easy €800 – Medium €1,500 – Hardcore Trip to Miami +€4000 cash
All Players who finish top 30 win great cash prizes (100% free from wagering requirements). The higher you rank, the better your prize will be.
Play your favorite casino games and hunt for big wins and jackpots while completing exciting missions, collecting blingy rewards and competing against other players.
At the same time! The Casino Challenge at Casumo makes it possible, and this time there are loads of massive cash prizes and an exotic dream trip to Miami at stake.
Dress up like Sonny Crockett, take a chill pill and get yourself ready to go-go at innovative and award-winning Casumo casino.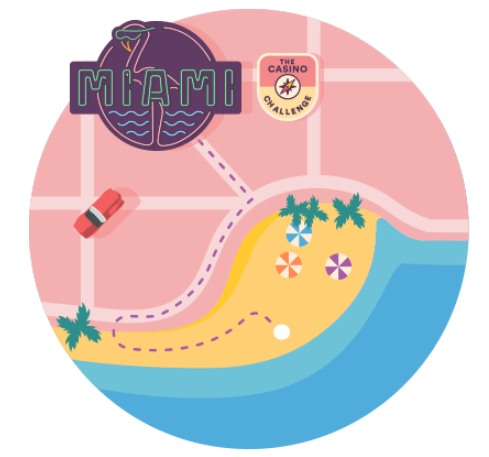 This is how you get started:
1. Open an account from here.
2. Choose between the Easy, Medium or Hardcore challenge.
3. Play your favorite games and complete the casino challenge as many times as you want. Least spins win.
Start playing the Casino Challenge today!
• Progress in the challenge by completing casino missions
• Finish top 30 and win cash prizes or even a trip to
• Challenges for all levels
• Guaranteed prizes along the way
• Play as many times as you wish
About Casumo
Casumo is an award-winning online casino based in Malta. By combining social and real money gaming, Casumo has built the world's first casino adventure, where the player not only collects winnings, but also points and trophies for every round played. Through design,technology & innovation Casumo aims to disrupt a young but in many ways immature industry. Since the launch in 2012, Casumo is still one of the fastest growing online casino operators in Europe. For more information, please visit www.casumo.com
.