The CyberBingo Wild West Keno Tournament live till Sunday!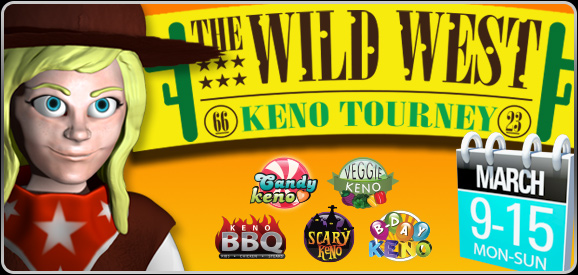 Keno Fun
Go wild with excitement as CyberBingo bring you the very best in keno action and an amazing $2,500 in prizes to be won when you play at fantastic Keno machines in The Wild West Keno Tournament.
The CyberBingo  Wild West Keno Tournament plays until March 15 at 11:59PM EDT and includes all your favorite Keno Machines, Veggie Keno, Candy keno 10, Scary Keno 10, Bday Keno 10, BBQ Keno15, Mini Keno 10 and Mini Keno 15.
All you have to do to be a winner is play any or all of these great Keno games and not only can you win incredible prizes, CyberBingo will total up your winnings during the Wild West Keno Tournament and award fantastic prizes to the top 20 players with the highest aggregate winnings during the tournament.
Climb the Leaderboard
There's a fabulous $500 cash prize for The Wild West Keno Tournament winner, so start playing CyberBingo   fantastic Keno machines to climb your way to the top of the leaderboard and win yourself an incredible prize in The Wild Keno Tournament.