Trivia Question 15 Dec in the Guts Casino Christmas Trivia. Win gifts every day!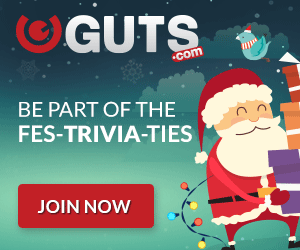 Sign up and deposit now to Participate in the Guts Casino Christmas Trivia to win gifts every day!
How it works:
Complete the daily questions and missions to earn points, and of course be gifted mounds of free spins, bonuses, cash prizes and goodies.
You have 72 hours to answer each question, and 24 hours to complete each mission.
The more points you earn for the leader board, the more value you shall reap.
Trivia Question 
15 Dec 2015
Dinner for one is a traditional short film directed by Heinz Dunkhase watched by scandinavien during the festive period. What does miss Sophie ask james her butler to drink with her soup?
Do you have the guts to take on this Christmas celebration, and experience the thrill of competition?