United Nations Big Bingo Event $13,000 Guaranteed at CyberBingo

United Nations Big Bingo Event $13,000 Guaranteed at CyberBingo
United Nations Day on October 24th marks the anniversary of the entry into force in 1945 of the United Nations Charter. With the ratification of this founding document by the majority of its signatories, including the five permanent members of the Security Council, the United Nations officially came into being.
To celebrate this great day in history CyberBingo are bringing you this month Big Bingo event – The United Nations Big Bingo $13,000 Event.
Playing in the Bingo tourney room from 8:00PM EDT on Saturday, October 24 EDT, there are $13,000 in guaranteed cash prizes that must be won.
The United Nations bingo fun starts at 8:00PM EDT as we play three (3) Top of the Hour warm up games, each one offering a guaranteed cash prize of $1,000 to be won for a card cost of just $2.50 a card.
These fantastic cash games play at 8:00PM EDT, 9:00PM EDT and 10:00PM EDT and are the perfect warm up as CyberBingo head towards the Big game at 11:00PM EDT with a guaranteed cash prize of $10,000.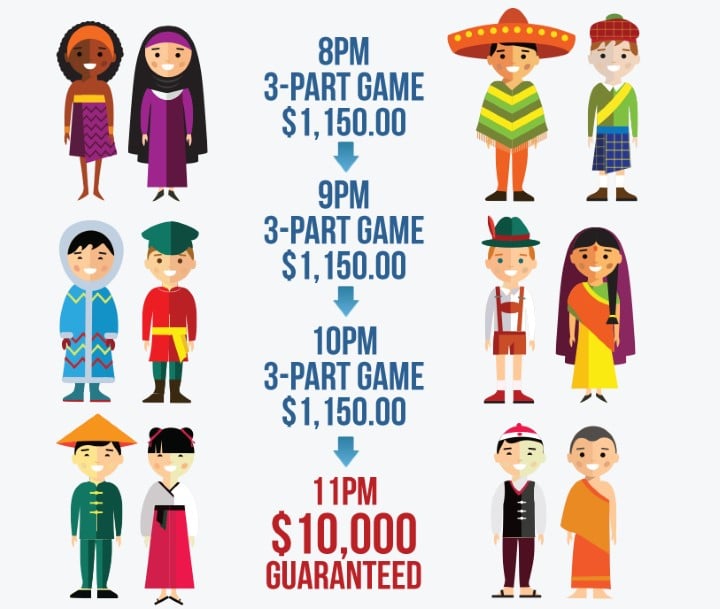 The Big Game
The United Nations Big Bingo $10,000 guaranteed game at 11:00PM EDT is the biggest game of the month. With $10,000 in cash that must be won and a card cost of only $5.00 a card, this is your chance to become CyberBingo next big winner and walk away with an unbelievable $10,000 in cash.
Don't miss out on your chance to be CyberBingo next big winner as CyberBingo award $13,000 in cash prizes in The United Nations Big Bingo $13,000 Event, pre order your cards today.
You can now pre order from PC, tablet and even your mobile phone.


Play Online Bingo at CyberBingo
CyberBingo has been awarding cash prizes over the last 19 years, which is why players worldwide choose us for a fun and secure bingo experience. We first launched in 1996 and have grown to become one of the internet's largest online bingo sites, incorporating the most advanced technology in the world. We are proud to announce that we have consistently won awards over the years, including several for Best Online Bingo site.
Here at CyberBingo you can always play your favourite bingo games with the added convenience of playing from any location 24/7. With state of the art bingo chat features and top quality customer service support you'll always be in safe hands playing with us. Not to mention, due to the massive popularity of our site our jackpots are huge!
You'll always be able to find massive bonuses and specialty games on CyberBingo, just be sure to check our promotions page regularly to see what's happening.