Wednesday 17th Spinata Grande Free Spins for All at Casumo Casino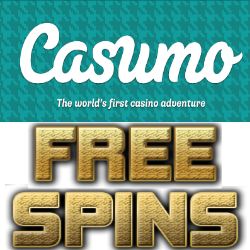 Wednesday 17th Spinata Grande Free Spins for All at Casumo Casino
Everyone who makes a real money deposit of €10 will get  15 free spins. A deposit of €30 will get  50 free spins, and if are up to depositing €50,  get 100 free spins in Spinata Grande straight into player account.
And… for all those new players who are not yet enjoying the Casumo adventure, it is now time to get them the massive €1200 + 200 Free Spins Welcome Bonus!
About Casumo Casino
Casumo is an award-winning online casino based in Malta. By combining social and real money gaming, Casumo has built the world's first casino adventure, where the player not only collects winnings, but also points and trophies for every round played. Through design,technology & innovation Casumo aims to disrupt a young but in many ways immature industry. Since the launch in 2012, Casumo is still one of the fastest growing online casino operators in Europe. For more information, please visit www.casumo.com
For several months Casumo has bee licensed to operate in the United Kingdom and throughout this time Casumo has conquered the hearts of a few UK players, although they had to play in a different currency. But Casumo want to show how much love all UK players and aim to make life as easy as possible. In the next weeks Casumo will be having also in the GBP (£) currency so all UK players can indulge in the Casumo universe ax experience the exciting casino adventure!
Wednesday 17th Spinata Grande Free Spins for All at Casumo Casino