Welcome to myXMAS MYBET big Christmas promotion for the festive period!
Be a loyal sports bettor in December and you could win a dream trip to this year's European football final in Paris! Every 5th bet will be holding a XmasCard in the final month of 2015!
Submit your bet and hope for a XmasCard notification to pop up on your screen. Got lucky? Now it's up to you to choose whether you want Weekly Winnings or XmasPoints.
The more XmasPoints you collect, the higher you will move up in MyBet Xmas Leaderboard! MyBet overall winner will win an exclusive trip to the final of this summer's biggest footballing tournament.
Tickets to watch two of Europe's greatest nations compete for the trophy, a 4* hotel, Meet & Greet, parties and travel expenses – all on MyBet!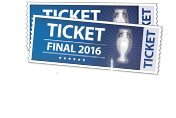 Those who opt for Weekly Winnings can claim their winnings and/or prizes already a few days after they've won them!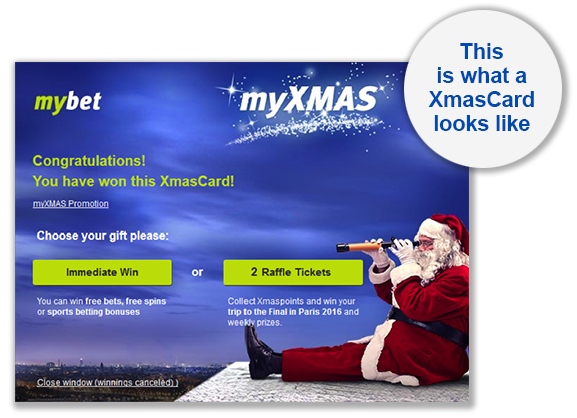 We hope you will enjoy MyBet promotion and we wish you the best of luck!

About MyBet
With up to 14,000 sports bets and live bets online and thousands of sporting events during the week, MyBet is one of the largest service providers online. MyBet vast selection covers soccer, tennis, ice hockey, basketball. For the biggest sporting events, you can even bet live up to the last minute. MyBet offer the best odds in the market on every league. MyBet quality casino has built a one-of-a-kind variety and reliability and poker community is for good reason one of the biggest in Europe. With over 14,000 online sports bets, hardly any other provide in the world matches up to large range of game varieties and betting types. Live betting offers pure excitement and instant results. All bets are offered with notably user-friendly high odds and with the right stake can provide especially high profits.
Your betting experience is boosted through attractive bonus offers and a sophisticated VIP program. Also with free extensive background information for every event, team and athlete, you have the chance to review your betting tips. You can even check live and past game results and performances.