Guts

 are Giving Away Over 1 Million Free Spins!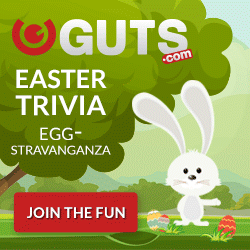 Guts Casino Easter promotion will run till March 27th.
Easter is just around the corner and Guts Casino are celebrating with another trivia promotion to entertain players for the next 2 weeks starting March 15th.
Every year we celebrate Easter but can you tell us what event occurred in the past the prompted the creation of Easter? 
If you know the answer to that, you'll be walking away with 10 Free Spins courtesy of the Guts Casino Easter Trivia Promotion – and that's just on the first day. 
That's right, Guts has returned with more trivia and each day you'll need to complete questions and missions that will see you win an array of… egg-cellent prizes.
Each correct question will earn you points and each mission completed will earn you even more.
The leader board will be updated on a daily basis and the Top 100 players will receive cash bonuses.
So if you want Free Spins, bonuses and cold-hard-cash, Guts is where you'll want to be spending your Easter.