Guts Casino making Christmas GREAT again!
Make Christmas Great Again
That's right, Guts Casino are Making Christmas Great Again. Regardless of whether you've been naughty or nice this year, you get to choose your own Wishlist Gifts. There's everything from Guts headphones to 4K Ultra HD Smart TVs. And the top Wishlist Gift is no less than a brand new Mini Cooper car!
Guts Casino are also giving you a Boost every single day until Christmas. And all you have to do for that is answer a funny Christmas question.
No answer is ever wrong — it's just for fun!
So be sure to come back every day to see the surprise Guts Casino have in store for you. It'll also get you closer to your Gifts!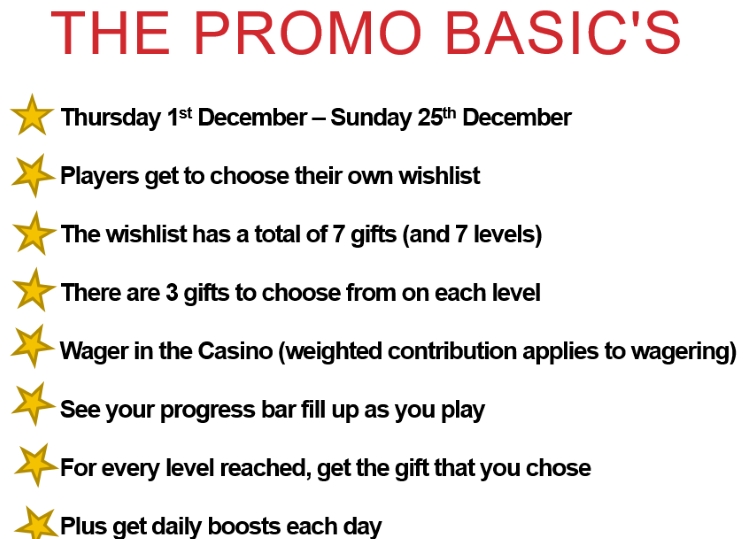 Great. Tell me more about how it works
It's dead simple. Click on the present icon at the top of the page to choose your Wishlist Gifts for each of the seven levels. Once you've made your selections for each level, hit 'Send Wishlist To Santa' to confirm your choices. Then it's just a matter of playing your favourite slots and live dealer games at Guts Casino.
And don't forget your Daily Boost — hit that each day, answer a festive question and get anything from free spins to cash bonuses.
After all, it is the time for giving!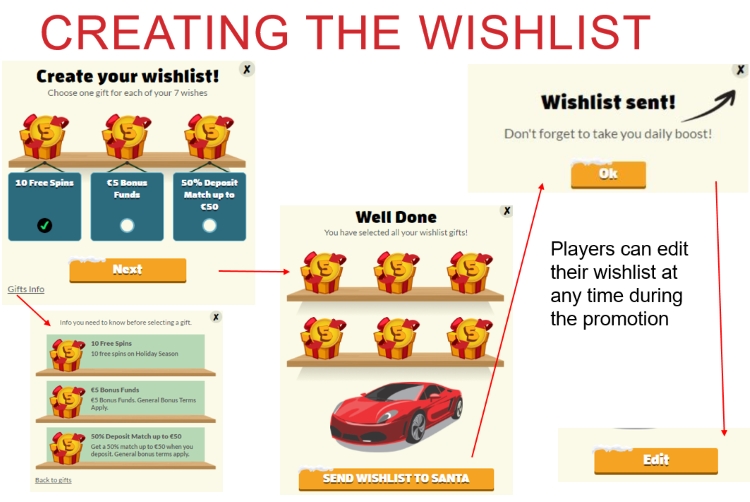 I'm in! But how do I make progress?
By playing your favourite slots and live dealer games at Guts Casino, your progress bar will fill up! When it reaches the end, you get to put your first Wishlist Gift in your stocking and start playing towards the next one.
The aim is to progress through all seven levels and bag yourself a Mini Cooper! A few other things that will help you progress, too, so be sure to make deposits and take all of your Daily Boosts.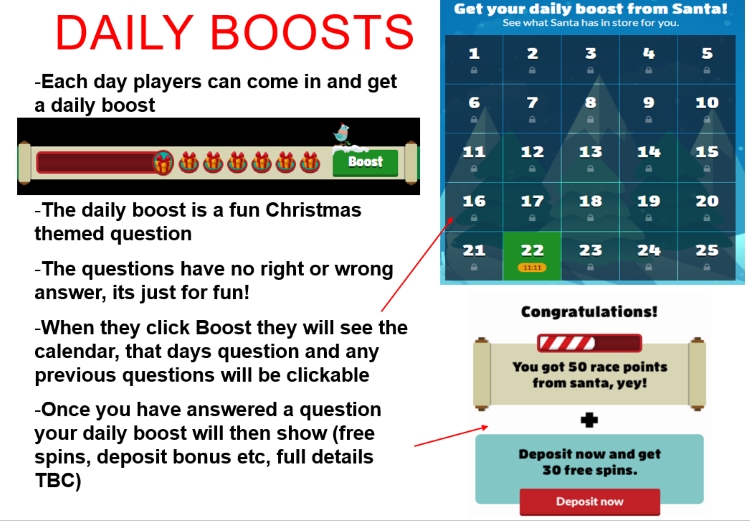 Nice. So, when do I get my Gifts?
Depends on the prize. Physical gifts, including the Mini Cooper, will be delivered to you in January. Other prizes will mention when they'll be delivered as you choose them. More info in the terms at Guts Casino. 
Can I change my mind about my Gifts?
Of course! Up until the end of Saturday 24th December, you can 'Edit Wishlist' as many times as you like. Don't forget to hit the 'Send Updated Wishlist' button, though, otherwise it won't get counted! 
Anything else I should know?
Just a couple of things. Only players who have deposited a minimum of €20 and wagered real money at Guts Casino between 1st October and 24th December 2016 will qualify for Make Christmas Great Again. Also, all times stated are given as UTC/GMT, so be sure to account for how that affects your time zone — Google is your friend when it comes to calculating what time it is around the world, so just type 'What time is it in London?' into Google and you'll get the current time in UTC/GMT!