Score a chance to win a luxury break for two this summer with bet365bingo!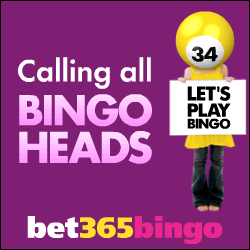 There are three chances left to win a luxury break for two this summer in bet365bingo's Football Bingo promotion. Play in All-Winners Finale games and you could be off for a picturesque trip to the Czech Republic, a football getaway to Spain, a relaxing break to Portugal, or a historical tour of England – the destination is up to you! 
Earn finale tickets until 9th July in bet365bingo's exclusive Stadium Room. You'll get a ticket for every one-line, two-line and Full House win in Qualifier games, running from 11:00 until 12:00, 15:30 until 17:30 and 20:30 until 22:30 UK Time Monday to Saturday. 
All-Winners Finale games take place at 20:30 UK Time every Sunday until 10th July in the same room. Play all your free tickets, or buy them in advance from the schedule, and win a trip of your choice or a share of the £250 Community Jackpot. 
Join bet365bingo this summer and get involved in this brilliant offer and much more!