Win a trip to the Canary Island of your choice in bet365bingo's Pick Your Trip!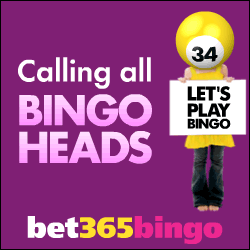 Play for the chance to jet off to the Canary Islands in bet365bingo 's weekly All-Winners Finale games until 26th February. Experience the sun, sand and crashing waves of Gran Canaria, Fuerteventura, Lanzarote or Tenerife; the destination is entirely up to you! 
Earn tickets for the next Pick Your Trip All-Winners Finale game for every win in the Holiday Shop room between Monday and Saturday – up to 36 every week. Play them in Sunday's finale and win a trip to the Canary Islands, a cash prize or a share of the £250 Community Jackpot.
What's more, for every £5 cash staked in the Holiday Shop room you will receive six tickets to each of the next ten prize-filled Party Hour games, which start at 20:00 UK Time Sunday in the same great room. 
Join bet365bingo today and win fantastic prizes, brilliant bonuses and much more this February!
Significant Offer Terms and Conditions 
Promotional period runs from 11:00 UK Time on 30th January until 21:06 UK Time on 26th February 2017.
You can earn one ticket to that week's All-Winners Finale game for every one-line, two-line and Full House win in our Check In games, which run from Monday until Saturday in the Holiday Shop room. Alternatively, tickets can be purchased from the schedule for £1 each (including the day of the finale) up to a maximum of 36 tickets per week including any awarded tickets.
The All-Winners Finale games will take place in the Holiday Shop room at 21:00 UK Time on the following dates; 12th, 19th and 26th February 2017.
The All-Winners Finales will be 90 Ball Bingo games, with £25 Cash as the one-line prizes, £50 Cash as the two-line prizes and a travel voucher with a prize value of £1,500 as the Full House prizes.
A Party Hour will run each Sunday during the promotional period from 20:00 UK Time. You will be awarded six tickets to each game for every £5 cash staked within the Holiday Shop room during the preceding week. Prizes for these games will be either Love2shop Vouchers or Cash Prizes.
For Full Offer Terms and Conditions please visit bet365bingo website.