Intertops Casino offers up $120,000 Golden Ticket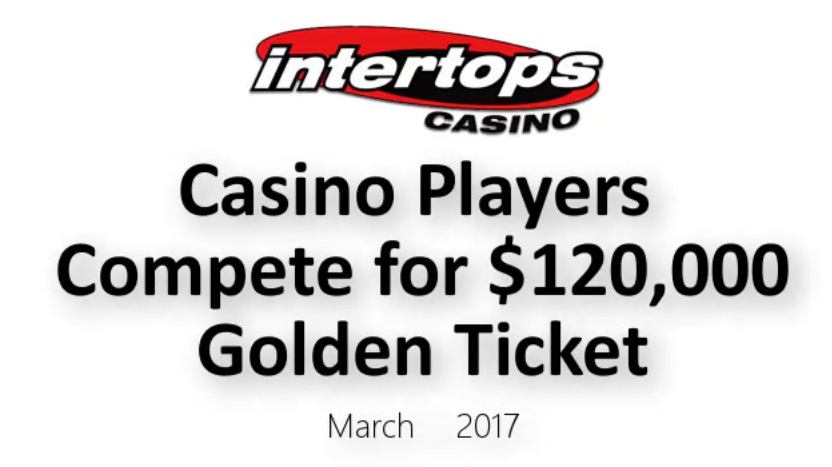 This month, Intertops Casino players are competing for $120,000 in Golden Ticket bonus prizes. Intertops players earn frequent player points when they play and every Monday until 3 April the top 300 will get casino bonuses up to $500 each. At the end of the quest for the Golden Ticket, one player will win a $1,000 grand prize.
It was a Golden Ticket that made Charlie Bucket's dreams come true, and now Intertops' Golden Ticket bonus giveaway is keeping the magic alive by awarding $30,000 in prizes every week.
"Players seem to love competing against each other for some extra bonus money," said Intertops' casino manager. "But this isn't just for frequent players. We also do random draws on Thursdays. Everyone that plays that week, even just a little, qualifies for those."
"If you can move yourself up a few spots on the leader board you can win bigger bonuses," said one regular player. "And if you can work your way up to the top twenty you qualify for the $1,000 grand prize too!"
Golden Ticket casino bonuses continue until 3 April 2017. Contest details and current scoreboard rankings are available on the website.

Intertops, trusted around the world for more than 20 years, recently relaunched its website with a modern new look and an all-new Instant Play casino. For players on the go, its new mobile casino features some of the most popular games from RealTime Gaming including the new Megaquarium, a tropical reef-themed game with bonus rounds that give progressively bigger prizes – 100x, 200x then 500x payouts.
The new Secret Symbol slot, an Aztec-themed game from RTG, is expected next week.