Real Housewives Bingo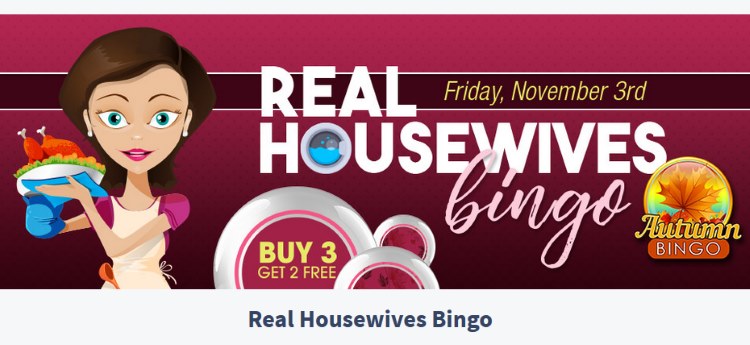 Coverall Fun
There's one job in life that rarely gets the acknowledgement and respect it deserves, a job that is done without complaint and is easily overlooked. This is the job of real housewives across the country, mums, wives, sisters and daughters who work 365 days of the year and rarely get the thanks that they deserve. Join CyberBingo for an evening full of bingo fun as we say thank you to Real Housewives everywhere.
The Real Housewives bingo fun can be found in the CyberBingo Autumn Bingo room from 8:00PM EDT on Friday November 3rd as we play an  exciting Real Housewives Coverall Bingo games with cash prizes of up to $15,000 to be won.
$7,500 Coverall min $75 games at $0.75 per card
$10,000 Coverall min $100 games at $1.00 per card
$15,000 Coverall min $150 games at $1.50 per card
CyberBingo Real Housewives Coverall Bingo games will play nonstop from 8:00PM EDT till 10:00PM EDT in the Autumn Bingo room, guaranteeing four hours filled with coverall bingo fun.
With huge cash prizes of up to $15,000 to be won and special mid hour Housewife Bingo games to play, you can get more chances to be a winner with CyberBingo unmissable Buy 3 Get 2 Free offer on all cards. That's an incredible 5 cards for the price of three!

Play Online Bingo at CyberBingo
CyberBingo has been awarding cash prizes over the last 19 years, which is why players worldwide choose us for a fun and secure bingo experience. We first launched in 1996 and have grown to become one of the internet's largest online bingo sites, incorporating the most advanced technology in the world. We are proud to announce that we have consistently won awards over the years, including several for Best Online Bingo site.
Here at CyberBingo you can always play your favourite bingo games with the added convenience of playing from any location 24/7. With state of the art bingo chat features and top quality customer service support you'll always be in safe hands playing with us. Not to mention, due to the massive popularity of our site our jackpots are huge!
You'll always be able to find massive bonuses and specialty games on CyberBingo, just be sure to check our promotions page regularly to see what's happening.