A murder has been committed at the mansion. 5 suspects, hidden evidence and illusive clues will lead you to the murderer and a big money prize. Whoever plays WhoSpunit had better be able to keep track of complex multiple activity gameplay, otherwise they will miss the clues and might just miss the chance of increasing their winnings as well. WhoSpunit is actually 2 online games taking place in parallel, whose paths keep crossing and that means more chance of a big win. First of all, it's a colourful 3D graphics slot containing both classic and innovative bonus types and a host of great characters. But there's more – much more. If you fancy yourself as detective in charge, you'll be playing the full 30 lines on each spin because that's the path to getting to the bottom of the mystery and solving the murder.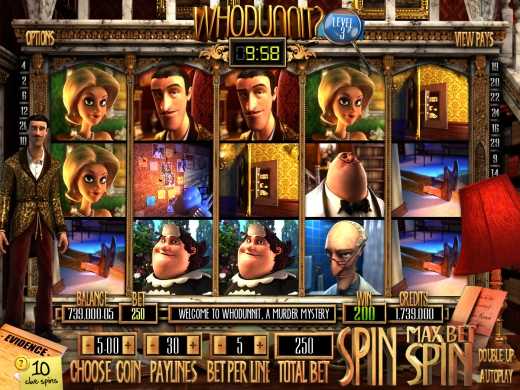 Game Format
• Configuration: 5-Reel, 30-line cascading reels slot machine
• Payout direction: left to right (right to left option in free spins mode only)
• Coin sizes: 0.02, 0.05, 0.10, 0.25, 0.50, 1.00
• Pay Lines: 1, 3, 5, 7, 9, 11, 13, 15, 17, 19, 21, 23, 25, 27, 28, 29, 30
• Coins bet per line: 1-5
• Coins per spin (regardless of value): 1-150
• Number of symbol types: 9 + 15 more in the special clue collecting round
• Winning line configurations: 3, 4 or 5 consecutive appearances of a symbol.
• Symbol score groups: 6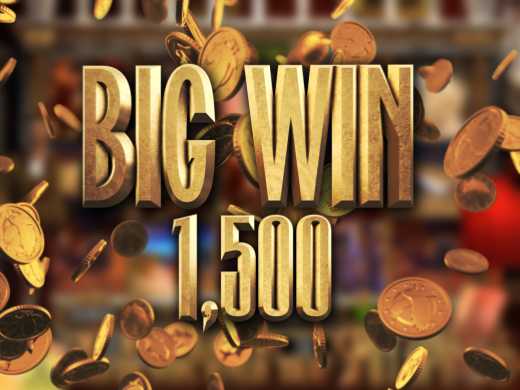 Special Bonus Options
• Second screen bonus round
Only after you've solved all 3 clues of the clue collection round, if the gold-rimmed evidence symbol comes up in dead center position, you get to interrogate the suspect and get more credits in the process
• Scatter evidence symbols
Get 2 or more evidence symbols in any position and earn between 60 and 600 times the total bet.
• 10 Free Spins + special help from the characters
First of all, you need to get all 5 of the characters showing on the reels at the same time. Then you can pick one of them to add to your weight during the free spins – pay both ways, 4x multiplier and more.

On Screen Buttons
• Options: Takes you to the game settings control panel – see below.
• View Pays: Information on Paylines, Features, and Bonus Rounds
• Previous: While in VIEW PAYS, button displays previous information page
• Return To Game: While in VIEW PAYS, button redirects player to the main game screen
• Next:- While in VIEW PAYS, button displays next information page
• Choose Coin: – + to increase or – to decrease the coin to play
• Paylines: – + to increase or – to decrease the number of lines to bet on
• Bet per line: – + to increase or – to decrease the number of coins to wager on every line.
• Spin: Spins a round with the selected coin, number of lines and credits bet per line
• Max Bet Spin: Spins a round with 30 lines at 5 bets per line for a total bet of 150 multiplied by your currently selected coin
• Double up: A chance to throw the 3 dice and bet your last winnings on the result – even or odd – and double your last win. But choose well, you could lose it too!
• Auto Play: If you like to sit back and watch, go into auto play mode, enter the lines, coin and bet per line you want to play, and the number of automatic rounds, and enjoy the show.
• Review Evidence: Click on the evidence file and review what you've learned so far.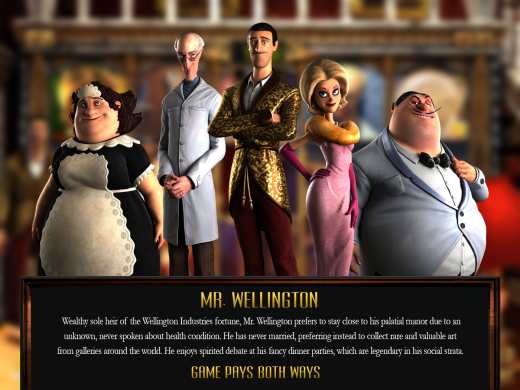 On Screen Info
• Balance: Current balance as value of your credits
• Bet: Total amount to bet on next spin
• Message box: Changes all the time – automatically alternates in the case of multiple messages
• Win: Amount won on last round
• Credits: Current balance in coins of the selected denomination
• Paylines: Number of currently selected paylines
• Bet per Line: The number of coins to wager on each line
• Total Bet: Total amount to bet on next spin (same as Bet)
Drake Casino – USA Accepted