Bet on Super Bowl XLIX with BOVADA Get 50% free bet upto $250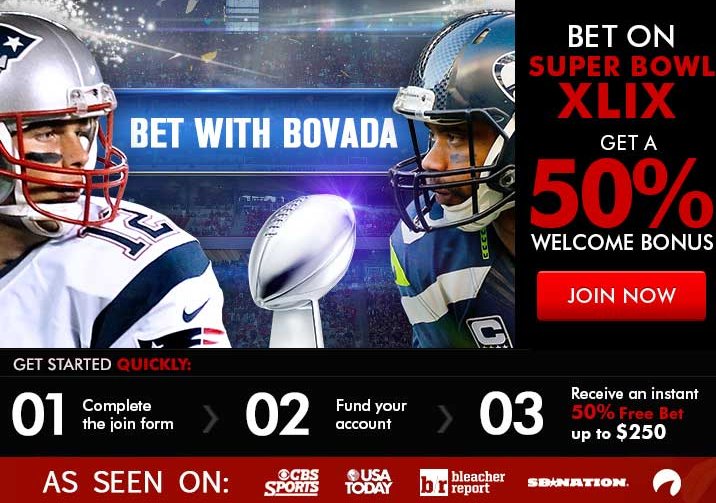 Super Bowl XLIX
Sunday, February 1, 6:30 PM ET
University of Phoenix Stadium, Glendale, Arizona
New England Patriots vs. Seattle Seahawks

Arizona will host its third Super Bowl when Super Bowl XLIX is played at University of Phoenix Stadium on February 1, 2015.
Super Bowl XLII was held at University of Phoenix Stadium on February 3, 2008.
Super Bowl XXX was held at Sun Devil Stadium on January 28, 1996.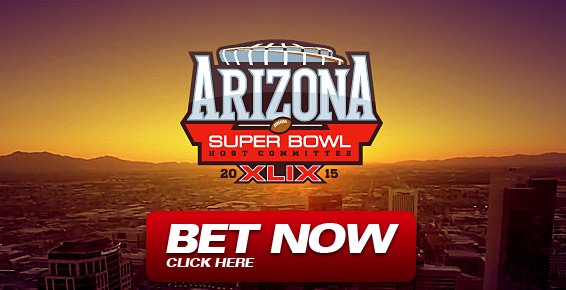 On Sunday, February 1, the Seattle Seahawks face off against the New England Patriots in Super Bowl XLIX. After prevailing in two gripping playoffs, the best teams in football will come together for the most anticipated sporting event of the year. Kicking off in Glendale, Arizona, Super Bowl 49 will be a showcase of Seattle's No. 1 defense in the NFL against the high-powered New England offense.
The Seattle Seahawks (+2) demolished the Broncos last year and came into the 2014/15 season as favorites to repeat as Super Bowl champions. In the NFC championship game, it looked like they would narrowly miss out against the Green Bay Packers but they engineered an epic comeback and won in overtime to make sure the famed Lombardi Trophy is still within their reach.
Despite two injuries on the Seattle side, their defense is easily the most dominant in the NFL. With the Legion of Boom leading the way, Seattle's defense has surrendered fewer points than any other team throughout the season. QB Russell Wilson is only in his third year in the NFL but he's proven himself as a big game player and if he plays as well as he did in overtime in the championship game, he'll be taking it to another level.
The New England Patriots (-2) are looking to raise the bar again and win their fourth Super Bowl since 2005 with QB Tom Brady and coach Bill Belichick. Their journey to Super Bowl XLIX was easier than the Seahawks and they displayed one of the best offenses in the NFL. They clinched the AFC championship title after blowing out the Colts 45-7.
Fifteen years into his NFL career, QB Tom Brady is still on form. He threw for 593 yards in two postseason matchups this season and he won't be afraid of the Seahawks' Richard Sherman. Aside from that, the Patriots have shown they're a complete team with an unpredictable offense heading in to the Super Bowl. They're capable of winning in a variety of ways including running the ball when they need to.
Regardless of how Seattle performs on the big day, keep in mind when making a Super Bowl bet that history may not be on their side. There hasn't been a back-to-back Super Bowl winner for a decade and no NFC team has doubled up since the Green Bay Packers in 1996/97.
Super Bowl 49 in Arizona is a tough game to forecast and both teams can go confidently onto the field. Whether you're experienced at placing Super Bowl bets, or just wondering how to bet on the Super Bowl for the first time, you're in the right place. Check out our Super Bowl betting odds and Bovada Super Bowl XLIX Party Prop Sheet, and get ready for what could be one of the best Super Bowls in history.
 About Bovada
BOVADA embarks on its own road, armed with the experience and talent to quickly become the industry's powerhouse brand and the most trusted and most fun place to bet on sports.
New Depositors benefit from a Free Sports Bet up to $250 – while many lean on signup bonuses in trying to earn your business, BOVADA is focused on providing free wagers up to 50% of your deposit. That free bet can be up to a maximum of $250 and it can be used on any sport in the sportsbook.
Props and underdog odds
BOVADA has an unmatched variety of prop bets. You will find more betting options on Sports, Politics and Entertainment than anywhere else.
Live betting – mobile betting – BOVADA is available on the go. They Offer live betting and mobile betting options from a variety of portable devices.
Easy–to–understand website – BOVADA offers betting on every major sport and carefully steers you where you need to go each day. Find your favorite team, or odds type in a snap, whether you are betting the late baseball game on the moneyline or the quarterback props on Monday Night Football.
Best customer service, best sports stats – looking for trends, matchup details and game previews before going to the betting menu? BOVADA offers statistics on all major sports so you don't need to venture far to do your research and handicapping. Need to contact customer service? You can always get a real, live, knowledgeable person who can help answer your questions. Customer Satisfaction is a top priority at BOVADA.
Your information is safe – security, privacy and payouts are three of the most important aspects of playing online. BOVADA's pledge is 100% safety and satisfaction in all three areas and has independent oversight to make sure you have the best betting experience in their sportsbook. So when it's time to feel comfortable about playing online, BOVADA is synonymous with this trust.