Bovada & Bodog Kentucky Derby: Two Undefeated Competitors Top the Racebook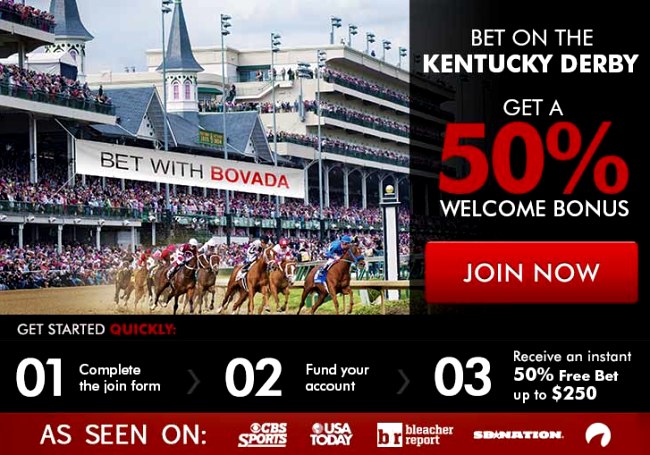 141st Kentucky Derby
Saturday, May 2
Churchill Downs Racetrack in Louisville, Kentucky
The 141st Kentucky Derby is taking place this Saturday, and we'd like to let you know about all the great exciting things going on at Bodog.eu and Bovada.lv this weekend.
On May 1 and May 2 only, Bovada.lv and Bodog.eu are offering a special cash Welcome Bonus to players making their first deposits. Normally this Welcome Bonus is not a cash bonus. Players can bet on the winner in the futures section as well as whether or not they think there will be a Triple Crown winner in the propositions section.
On Saturday, May 2, Churchill Downs will host the 141st Kentucky Derby – the first leg of the US Triple Crown – what many refer to as the most exciting two minutes in sports. Offering up a $2,000,000 purse, the Grade 1 event will be contested by the fastest 3-year-olds in the industry.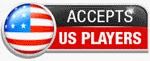 2015 Kentucky Derby Entries
| Post | Horse | Trainer | ML Odds | Points | Earnings | Insight |
| --- | --- | --- | --- | --- | --- | --- |
| No. 1 | Ocho Ocho Ocho | Jim Cassidy | 50/1 | 30 | $793,850 | Though he suffered a weak run in the San Felipe Stakes earlier this year, he's back on track after finishing third in the Blue Grass Stakes. |
| No. 2 | Carpe Diem | Todd Pletcher | 8/1 | 164 | $1,519,800 | Aside from a second-place finish in the Breeders Cup Juvenile, Carpe Diem has won every other race he's ever run. |
| No. 3 | Materiality | Todd Pletcher | 12/1 | 100 | $656,028 | This lightly raced horse is on his way to the Kentucky Derby undefeated after most recently winning the Florida Derby. |
| No. 4 | Tencendur | George Weaver | 30/1 | 41 | $253,500 | Despite a number of shaky performances, the colt placed second in the Wood Memorial in early April. |
| No. 5 | Danzig Moon | Mark Casse | 30/1 | 45 | $251,120 | Though he struggled in the Tampa Bay Derby, this colt is looking to get back on track after placing second in the Blue Grass Stakes. |
| No. 6 | Mubtaahij | Mike de Kock | 20/1 | 100 | $1,461,332 | This impressive colt has secured his spot at Churchill Downs after winning the UAE Derby. |
| No. 7 | El Kabeir | John Terranova II | 30/1 | 95 | $768,892 | The crowd pleasing El Kabeir has finished in the money in eight of nine starts, and has won the Gotham, Jerome and Kentucky Jockey Club Stakes. |
| No. 8 | Dortmund | Bob Baffert | 3/1 | 170 | $1,289,400 | All eyes will be on Dortmund who will head to Churchill Downs undefeated in all race he's ever run. |
| No. 9 | Bolo | Carla Gaines | 30/1 | 30 | $249,700 | Bolo took third place in both the San Felipe Stakes and the Santa Anita Derby following his victory in the Eddie Logan Stakes. |
| No. 10 | Firing Line | Simon Callaghan | 12/1 | 58 | $574,800 | With two wins and three second-place finishes under his belt, this young powerhouse has set his sights on the Derby. |
| No. 11 | Stanford | Todd Pletcher | 30/1 | 40 | $199,400 | An inconsistant career may be levelling out after the Todd Pletcher-trainee landed a smooth second-place finish in the Louisiana Derby. |
| No. 12 | International Star | Mike Maker | 20/1 | 171 | $1,010,979 | This colt hasn't lost a race this year, securing victories in all three races he's run including the Louisianna Derby, the Rising Star and the Lecomte Stakes. |
| No. 13 | Itsaknockout | Todd Pletcher | 30/1 | 60 | $335,360 | The Todd Pletcher trainee has won three of his four career starts, but ran into trouble in the Florida Derby where he finished fourth. |
| No. 14 | Keen Ice | Dale L. Romans | 50/1 | 22 | $160,395 | This colt hasn't won a race since breaking his maiden at Churchill Downs last fall, and though he's got great stamina, he'll be entering the Derby field as a major long shot. |
| No. 15 | Frosted | Kiaran McLaughlin | 15/1 | 113 | $836,800 | Frosted impressed the crowds at the Wood Memorial when he breazed by El Kabeir to take the win. |
| No. 16 | War Story | Tom Amoss | 50/1 | 44 | $243,600 | War Story has finished in the money in all five of his career starts, including three Kentucky Derby prep races. |
| No. 17 | Mr. Z | D. Wayne Lukas | 50/1 | 34 | $652,226 | Mr. Z took third place in the Arkansas Derby, earning him enough points to run in the Derby this year. |
| No. 18 | American Pharoah | Bob Baffert | 5/2 | 160 | $1,411,500 | The Bob Baffert-trained colt is now on a four-race winning-streak after winning the Arkansas Derby hot off his 2015 Rebel Stakes win. |
| No. 19 | Upstart | Rick Violette Jr. | 15/1 | 76 | $971,480 | After winning the Holy Bull Stakes in January, this ridgling went on to finish second in both the Fountain of Youth and the Florida Derby. |
| No. 20 | Far Right | Ron Moquett | 30/1 | 62 | $625,766 | Far Right is off to Churchill Downs after finishing second in the Arkansas Derby and first in the Southwest stakes. |
*Standings as of April 30, 2015