Hook's Heroes Slot New game from NetEnt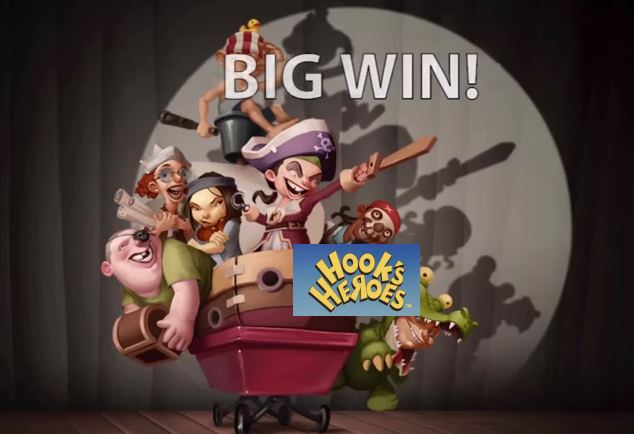 Ahoy there! Hook's Heroes™ is the latest fun-filled video slot from NetEnt™. This 5-reel, 3-row, 20-line video slot features Free Spins with 3 different features to choose from, single Feature Spins that preview the exciting Free Spin features for a single spin, as well as Wild substitutions and Scatter symbols! This adventurous video slot guarantees players a chance to find their treasure on the reels. The combination of Caribbean style music and pirate-themed cartoon graphics makes sure that players will have the complete NetEnt gaming experience with Hook's Heroes™.
Hook's Heroes Slot is the new slot machine game which is being developed by Net Entertainment. The slot provides an interesting take on the Captain Hook tale, although curiously enough will avoid all mention of Peter Pan! Hook's Heroes is one of the most mysterious new slots at the minute, with only a handful of scattered pieces of information available.
Hook's Heroes Slot is set to be a very impressive slot. Most of the characters on the reels are pirates, and they look mean, and rather frightening in a cartoony way, if we're honest. Hook's Heroes Slot is set to feature a 96.82% pay rate, making the slot a moderately high variance game, which isn't that common for a Net Ent slot.
Gameplay and wagering
Only 20 paylines will appear on Hook's Heroes Slot 5 reels. This is fairly standard for Net Entertainment games. Players should be able to choose coin values which stem from 0.01 up to 1.00, and be able to bet up to 10 coins per line. Minimum and maximum wagers should therefore be adjustable from 1p up to 200 coins per spin.
Hooks Heroes Special features
The information concerning Hook's Heroes Slot is sketchy at best. Nonetheless, some discernible information has come to light. For instance, there are scatter icons which are capable of appearing on all of the reels of this game. Three or more will trigger a bonus round, which is widely reported to be a free spins bonus.
Meanwhile, Hook's Heroes Slot also contains wild symbols. These wilds are also capable of appearing on all five reels of the game. The wilds take the shape of pirates wearing hats, meaning that there are multiple wilds present across the reels. Wilds can replace all other icons in the game, barring scatter symbols. It is unclear if wilds have any monetary value on their own.
PIRATE FEATURE
Pirates are renowned cheats, liars and scoundrels but in the Pirate Feature on Netent's Hook's Heroes slot, those vile qualities will work in your favour. When the Pirate Feature is activated, randomly, wins will be calculated on visible symbols, regardless of whether they're in the correct pay line position or not. This is probably my favourite feature ever on any online slot as nothing makes me more frustrated than seeing a load of great symbols on the reels but getting no wins as they're not in their correct pay line.
MERMAID FEATURE
Mermaids are famous for being wily creatures. Absolutely beautiful and captivating but using that charm for evil by luring sailors to their deaths on the treacherous seas, so it's no wonder the pirate in Hook's Heroes looks a little afraid. But, luckily for you, the mermaids like slots players and they will multiply your winnings whenever they appear during your journey.
FAIRY FEATURE
Fairies aren't something you'd normally associate with pirates but whilst we're on the subject of mythical creatures I guess it's reasonable to include them. We all need a little magic in our lives after all. When the Fairy Feature is randomly activated, the cute little imp will cast a spell on between 2 and 5 different symbols and turn them into Wilds, increasing your chances of some seriously big payouts.
FREE SPINS FEATURE
Another feature of this game is the Free Spins round. This isn't random, but is triggered when you find the right amount of Scatter symbols on the reels at the same time. When the Free Spins round is triggered, you have the choice of which random feature to include. Choose between the following:
Mermaid Feature x 10 free spins.

Pirate Feature x 15 free spins.

Fairy Feature x 7 free spins.
You have to decide which feature will perform best for you and boost your winnings the most.

Given this feature, it is highly unlikely that Stickers will contain a free spins bonus round. Most other Net Ent slots that contain similar features to the Sticky Spin are devoid of free spins bonuses. In the Sticky Spin bonus, it is possible to win as much as 80,000 coins, so that's always going to perk you right up.
Launch date and final thoughts
Hook's Heroes Slot powered by NetEnt certainly looks as though it is going to be a cracking pirate themed slot when it is released. The game will feature a number of quality bonuses, as well as cheap bets. There are, of course, many competitive slots out there with exactly the same theme, so it is hard to tell just how well Hook's Heroes will fare. As far as a release date goes, we will see it in online NetEnt Casinos at September 23.
Best NetEnt Casino 

$400 €

$200 €

$300 €

$300 €

200%

200%

200%

$500 €

$200 €

 

$200 €

$300 €

$200 €

$200 €

$200 €

$200 €