Maria €5,000 Cash Spin Race in September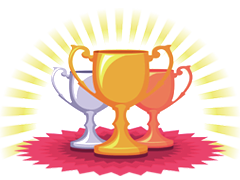 Maria Casino gives players the chance to bag their share of the huge €5,000 cash prize pool in our two week Spin Race promotion from 7th till 20th September.
The Spin Race is divided into three stages – two 4 day qualifiers that will take place from 7-10 September and 11-14 and one Grand Finale, which will take place from 15-20 September. Only the 50 highest ranked players from each of the qualifiers will be able to participate in the Grand Finale.
In each spin race, the player with the most spins on our selected slots will win the main prize. Players that qualify for the Grand Finale in the first qualifier will not be able to prevent other players from qualifying in the second qualifier. They will, however still be paid the cash amount that they qualify for in the second qualifier.
Games: Gonzo's Quest, Super Flip/Danish Flip, Spiñata Grande, Twin Spin, Double Play Superbet
Markets: DK, UK, NL, EE, FI, NO, SE
The prize pools for the individual spin races can be seen below:
2x Qualifiers prize pool 7-10 September and 11-14 September

| | |
| --- | --- |
| 1st Place | €500 |
| 2nd Place | €200 |
| 3rd Place | €100 |
| 4th Place | €50 |
| 5th Place | €20 |
| 6th Place | €20 |
| 7th Place | €20 |
| 8th Place | €20 |
| 9th Place | €20 |
| 10th Place | €20 |
Grand Final Prize Pool 15-20 September

| | |
| --- | --- |
| 1st Place | €2,000 |
| 2nd Place | €400 |
| 3rd Place | €150 |
| 4th Place | €100 |
| 5th Place | €100 |
| 6th Place | €50 |
| 7th Place | €50 |
| 8th Place | €50 |
| 9th Place | €50 |
| 10th Place | €50 |
Terms and conditions:
Monetary rewards and free spins earned will be credited to the winning players' account by 18.00 CET on the first work day after the end of each spin race.

General Maria terms and conditions apply.

We reserve the right to change or withdraw this offer at any time