Robin Hood Outlaw a new novel and unique kind of video slot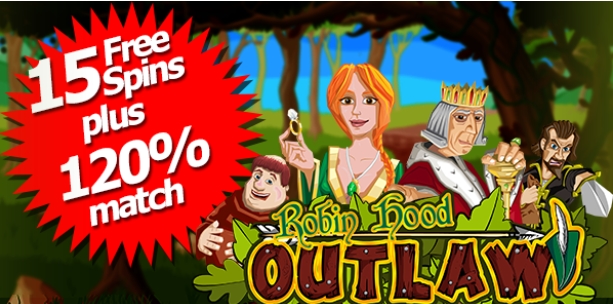 Robin Hood Outlaw is one of the most entertaining slots I've played in a long time and definitely a move in the right direction for Video Slots in general, which have stayed relatively unchanged for decades. The trick however is that video slots players are used to the way things work and don't like to have their standard process of play interfered with.
This game cleverly adds additional dynamics and game play elements to the video slot genre without actually changing anything in the way of the standard playing style of a video slot, which definitely enhances the game experience.
Feature games are always highly sought after elements of Video Slots, and Robin Hood Outlaw does something that quite frankly, I don't know why no-one has thought of before. If someone else has and I missed it then I'm obviously wrong, but as an avid slots player this is the first time I've encountered this. What am I going on about – a multi-level feature game! This gives an added thrill to the feature as you try to work your way through all the rooms to the Throne Room.
What heightens this experience even further is the way you get to the feature game. It's a game in itself that you can really get into without actually affecting your gameplay. Especially enjoyable, and anxious at the same time, is the Sheriff Scatter. Your coin stack keeps going up with laden cart combos, but the Sheriff Scatter will take away from it.
As if that was not enough to make this one of the most engaging video slot releases I've seen in a long time, there's something else. The game mood will change depending on your winning or losing streaks. Watch the background fade to a sombre tone or a bountiful one, depending on your game performance. The soundtrack follows suit, adding an extra dimension to the game that amplifies the entire slot experience.
Additionally, the inclusion of a gamble game and the chance to win up to a massive 160,000 coins, makes Robin Hood Outlaw one of my favourite releases of the year!
Play it now at any one of the 5 Genesys Casinos!

Get our exclusive free bonus offer 15 Free Spins no deposit required
to play at the new Robin Hood Outlaw Slot at Mandarin Palace Casino