Everyone's a VIP at New Red Stag Casino featuring WGS Games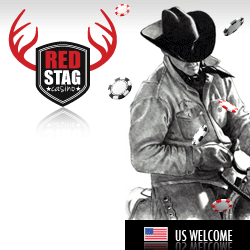 (Press Release) — From their very first deposit, every player at the new Red Stag Casino is treated as a VIP player.  They're automatically enrolled in the casino's VIP program that rewards players for playing its 150+ online casino games from WGS (Wager Gaming). Its most popular games are also available in its full-featured mobile casino for smartphones and tablets. 
The hip new casino's motto is "the drinks are on us" referring to its six VIP bonus levels named after popular drinks and cocktails.  In the entry level Beer Club players get 25% added to all deposits, up to $250 per day. On Thursdays the Bloody Mary bonus adds an extra 85% (up to $85) and the Sex on the Beach bonus doubles deposits (up to $100) every Saturday. 
Players in the Tequila Club, Rum Club, Vodka Club and Whiskey Club get progressively bigger bonuses. Top level Champagne Club players get 50% added to all deposits (up to $1000) and every second Monday they can get a $75 free bonus. 
Red Stag Casino Cash Back Bonuses are also named after cocktails.  The Pina Colada 25% Cashback offer gives players that bust 25% of their deposit back. Champagne Club members can claim Martini Cash Back up to $1200.
"We treat every player as a VIP from the minute they start playing in our casino," said Juliet Black, Casino Manager at Red Stag.  "Whether it's a Pina Colada Cash Back, Bloody Mary Bonuses on Thursday or Sex on the Beach bonuses on Saturdays — the drinks are on us!"
To welcome in the new customers, Red Stag Casino is running special promotions around the clock. "The $10,000 Guaranteed Prize Tournaments were such a huge success," said Black, "that we have decided to follow them up with more similar events this month!"
About Red Stag Casino
Red Stag Casino is a full-featured online casino offering over 150 unique games from Wager Gaming (WGS) including slots like Amanda Panda and Agent Cash as well as table games.  Players are enrolled in a six-level VIP program that rewards players with deposit bonuses and cash back on deposits. New players are welcomed with a series of bonuses totaling $2500.  Red Stag Casino is the 9th brand with affiliates managed by Deck Media.