Win a magical trip to Lapland in bet365bingo's Aurora Adventure!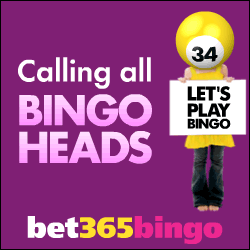 Play this week for the last chance to earn tickets into the All-Winners Finale game which takes place at 21:00 UK Time on 25th November. You can collect up to 10 tickets this week and play them in the finale for the chance to win a trip to Lapland, a cash prize or a share of the £1,000 Community Jackpot! 
Get one ticket to finale for every win in our Snowflake games, which run from 11:00 UK Time each day in the exclusive Log Cabin room. What's more, for every £10 cash staked in the Log Cabin room you will receive six tickets to each of the ten prize-filled games in our Party Hour, which runs from 20:00 UK Time on the 25th November in the same room. 
That's not all, visit bet365bingo for more fantastic promotions and chances to win incredible prizes!
Significant Offer Terms and Conditions 
Promotion period runs from 11:00 UK time on 31st October until 21:06 UK Time on 25th November 2016. There are four qualifying periods running from 11:00 UK Time on Monday until 22:36 UK Time on Sunday during each week of the promotion with the exception of the final period which ends at 22:36 UK Time on Thursday 24th November.
You can earn one free ticket to the All-Winners Finale game for every one-line, two-line and Full House win in our Log Cabin room. Alternatively you can purchase tickets from the schedule for £1. The maximum number of tickets you can earn from each qualifying period is 10 and you can hold a maximum of 40 tickets for the final.
The qualifying periods are:
Period four – 21/11/2016 – 24/11/2016
The All-Winners Finale game will take place at 21:00 UK Time on Friday 25th November in the Log Cabin room. This is a 90 Ball game with £25 Cash as the one-line prize, £50 Cash as the two-line prize and a trip to Lapland worth £2,700 as the Full House prize.
A Party Hour will run on 25th November from 20:00 UK until 20:54 UK Time. You will be awarded six tickets to each game for every £10 cash staked within the Log Cabin room during the promotional period. Prizes for these games will alternate between Love2shop Vouchers and cash prizes. You can acquire a maximum of 36 tickets per game for the Party Hour.
For Full Offer Terms and Conditions please visit bet365bingo website.