Win the Ultimate Bingo Cruise Summer Giveaway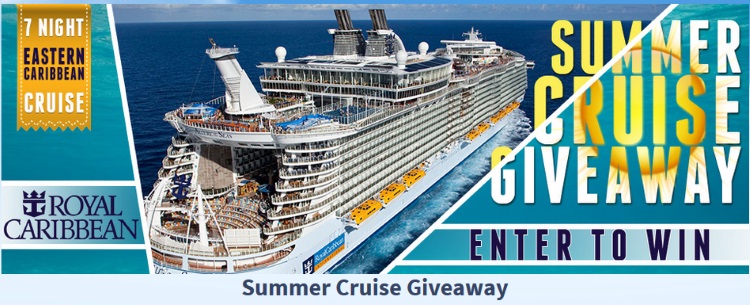 Summer Cruise Giveaway: April 1st – June 20th  
BingoSKY are offering players the chance to win the Ultimate Bingo Cruise Summer Giveaway. This cruise from Royal Caribbean, the 7 Night Eastern Caribbean Cruise lasts a full week.  Visiting 4 ports – Fort Lauderdale, Nassau, Bahamas – Charlottel Amalie,  St.Thomas  and Basseterre St.Kitts  a total of 8 days and 7 nights.

Join at BingoSKY for your chance to win the Ultimate Bingo Cruise Summer Giveaway.
What better way to start the summer than on a Sunny Cruise from Royal Caribbean.
This fabulous Summer Cruise Giveaway offers a total of 8 days and 7 nights onboard for 2 people, the ultimate summer cruise.
The Eastern Caribbean Cruise sails from Fort Lauderdale and visits four exciting ports, Nassau, Bahamas – Charlottel Amalie, St.Thomas and Basseterre St.Kitts.
This is one of the biggest prize giveaways that BingoSKY have ever offered!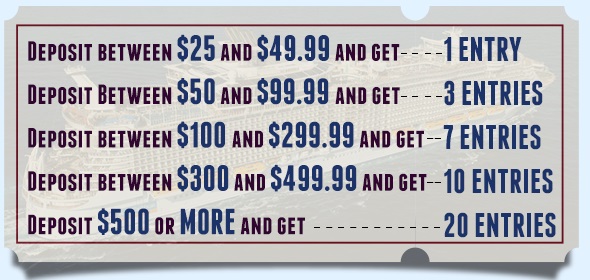 How to participate
Every time you fund your BingoSKY account between April 1st and June 20th, BingoSKY will reward you with free tickets to win our Summer Cruise Giveaway.
Simply place a deposit between these dates to automatically earn your free tickets.
Collect as many raffle points as you can for more chances to win this incredible.
Summer Cruise courtesy of BingoSKY.

What is Included
Accommodation:
The ultimate in comfort, in an Outside Stateroom for 2, convenience, and luxury plus a staff that's available twenty-four seven. You'll agree there's nothing better than returning "home" after a day filled with adventure
Entertainment:
The gorgeous view isn't the only thing that will dazzle you onboard our cruise ships. World-class performers from all over the globe star in awe-inspiring original shows by Royal Caribbean Productions.
Dine Royally:
On a Royal Caribbean cruise vacation, dining is part of the journey. It's more than just food. It's about the ambience, the dining experience, variety and the flexibility to plan dinner whenever you're ready.
Love your Days on the Sea:
Inside cruise activities from a day at the pool, aqua aerobics to rock wall climbing for the adventures kind, the cruise will also provide all equipment.
Fitness Center:
From state-of-the-art equipment to all the latest classes, this cruise has got everything the most sophisticated fitness clubs have – plus an amazing view.
This incredible Summer Cruise Giveaway is for 2 people with regular boarding fair tickets. Air Fare to Florida is included in the prize up to a maximum of $500 in total. Alcoholic drinks are subject to change including cruise dates due to cruise availability

Terms & Conditions Apply
Promo valid for Active players only

Promo valid on select dates only from Friday, April 1 at 12:01AM EDT till Monday, June 20 at 11:59PM EDT.

Winner will be announced on June 21st in chat and will also be called and emailed to confirm.

Entries are subject to deposit table

Cruise trip is only for 2 people any additional bookings will have to be placed separately

Management reserves the right to cancel or terminate the promotion at any given time

A cash equivalent can be offered upon request

General website Rules Apply

Air fare to Florida is included up to a maximum of $500