CyberBingo Thanksgiving Giveaway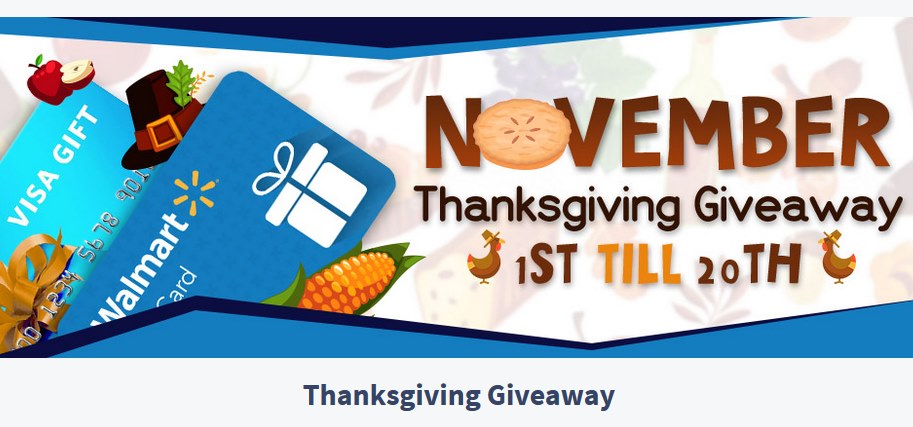 Win for Free
Are you ready to celebrate thanksgiving?
The rainy season may have started, but Fall is the most wonderful time of the year. Thanksgiving is approaching and so starts the countdown to the Christmas Holiday Season. CyberBingo have got the perfect way to get you started, are having a fantastic $500 Thanksgiving gift card giveaway that will help you to host a great Thanksgiving for friends and family or maybe help get you started for Christmas with some great Black Friday shopping.
1st Prize $200 Visa Gift Card
2nd Prize $150 Walmart Gift Card
3rd Prize $100 Visa Gift card
4th Prize $50 Walmart Gift Card
For your chance to win a gift card of up to $200 in CyberBingo Thanksgiving Giveaway, all you have to do is enter the
Bonus Code GIFTCARD2017
 under My Account>bonus code between November 1st and midnight ET on November 20th.
You'll automatically be entered into CyberBingo Thanksgiving Giveaway where 4 lucky players will receive a share of $500 in fabulous gift cards. To qualify for entry into the Thanksgiving Giveaway, players must have successfully placed a minimum of one deposit within the last 30 days.
Don't wait, take part in CyberBingo Thanksgiving Giveaway today and get ready for the holiday season. All gift card prizes can be exchanged for a cash equivalent under the players Bingo account.

Terms and Conditions:
Players must enter the bonus code GIFTCARD2017 between November 1st and November 20th to be entered into the Thanksgiving Giveaway

Only one entry per player

Winners will be announced on Tuesday November 22nd

Players must have funded their account within the last 30 days

Players may choose to receive a cash equivalent in place of the prize

Website General Terms & Conditions apply.