Intertops Casino Bonus Contest Awarding $120,000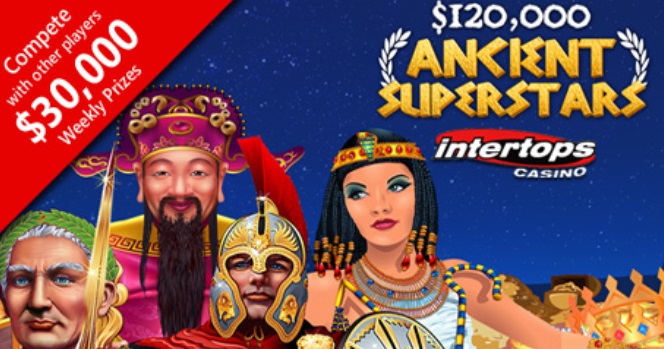 Legendary 'Ancient Superstars' Casino Bonus Contest Awarding $120,000 to Frequent Players at Intertops Casino
This month at Intertops Casino there's epic entertainment and legendary prizes as players compete against each other for $30,000 in weekly bonuses.  Every week during the $120,000 Ancient Superstars bonus contest, 300 frequent players will win bonuses up to $500 each. The top 20 each week will be entered in a draw for a $1000 cash prize (with no wagering requirements).

Intertops Casino players compete against each other for top weekly casino bonuses. They're ranked on a Scoreboard according to their points. Players earn points playing on their desktop or laptop computers or in the mobile casino on their smartphones or tablets.

Competition for the biggest money can be quite intense as players try to move up a few places on the Scoreboard and qualify for a bigger bonus. Even occasional players can win prizes, though. 

"You don't have to be a frequent player to be legendary this month!" said Intertops Casino manager.  "Every Thursday there's another 50 bonus prizes that are awarded randomly – so any one that's played even a little that week can win!"

Later this month, the world's most trusted online casino will unveil a new Christmas slot game. Swindle All the Way slot will join Christmas classics like Rudolph's Revenge and Naughty or Nice. The new Swindle All the Way is a hilarious game from Realtime Gaming where cunning thieves try to steal presents from under the Christmas tree. It has a bonus feature in which players pick a window where the thieves could be hiding in order to reveal prizes of up 60 free spins with up to 33X multipliers.

The Ancient Superstars bonus competition continues until December 4th. Current scoreboard rankings are available at Intertops Casino promotion page.

ABOUT Intertops Casino
Founded in London in 1983, Intertops accepted the world's first online sports bet in 1996. It launched its first online casino in 1998 and its poker room in 2003. There are more than 300 casino games from Real Time Gaming (RTG) in its main casino and another 200 games from Wager Gaming Technology in the Intertops Casino Classic. Several slots have progressive jackpots currently well over $1,000,000.  Intertops' most popular games are available in its new enhanced instant play online casino and new mobile casino. Intertops players compete against each other for top weekly bonuses.