Belgian Amateur Poker Tour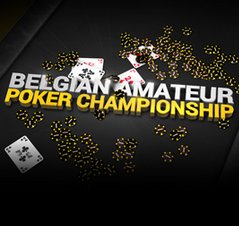 The Amateur Poker Association & Tour, the premiere destination for non-professional poker players worldwide, is hosting the upcoming Belgian Amateur Poker Tour at the Casino de Spa, Belgium from the 16t- 18 of January, 2015.
This tournament is open to amateur players only and will give them the chance to play live poker in a professional setting against other poker fans.
All players can qualify now exclusively on bwin.be for a mere $1.
One seat is guaranteed every Sunday from the 23rd of Nov to 28th of Dec.2014.
 
Key points:
This tournament is perfect for every poker enthusiast who has always wanted to experience a professional live poker event but never wanted to square up against professional players.
Facts
·         Promotional period: 17/11 to 28/12/2014
·         Participating labels: bwin.be
·         Prize: Belgian Amateur Poker Tourbuy-in
·         Here's how it works:
o    Qualifiers are running daily for as little as $1
o    One seat is guaranteed every Sunday