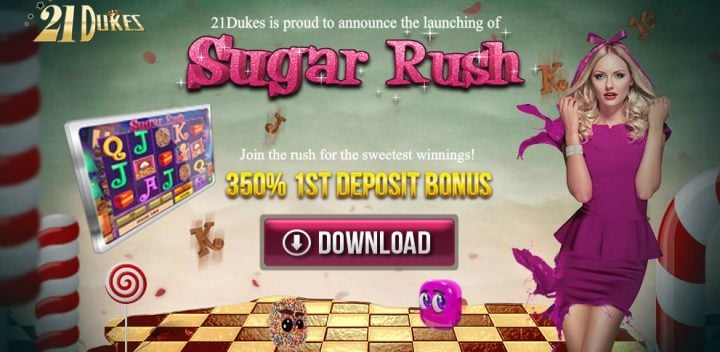 Sugar Rush Slot is a candy themed video slots game with 20 paylines, 5 reels and 11 symbols, with a starting bet of $0,01. The Free Spins feature is triggered by lining up the Gummy Bear symbols and the Bonus Round – by hitting 3 Cupcake symbols anywhere on the active paylines. The game offers winnings of up to 9,000 bonus points.
Sugar Rush online slots Wagering: Bets are adjustable and range from $0.20 to $5.00 per active line. Wagers per game will range between $0.20 and $100.00 while all twenty lines are being played.
Sugar Rush slots Pay Table: The game's pay table offers nothing but candy! Ok, so maybe I'm stretching it a bit, because there are a few letter symbols in there. Don't worry about the letters not awarding much, because they will, and with hefty payouts.
All symbols can appear stacked and pay from left to right. The highest paying symbols are the candy picture symbols. Payouts range between 10 coins and 450 coins, with three on a line. The wild is the highest paying symbol awarding up to 1000 coins.
Sugar Rush slot Wild symbol: The Gingerbread Man "Wild" symbol is the Wild, and during each game this scrumptious-looking cookie will have you rooting for more of him.
The Gingerbread Man "Wild" symbol substitutes for all symbols except for bonus and scatters.
As mentioned before, the Wild can appear stacked (on all the reels).
Five wilds on an active line will award 1000 coins.
Winning 1000 coins with five wilds may not seem like much to you. But the fact is, when all the reels are filled with wilds, those 1000-coin wins can add up to a nice 20,000-coin jackpot!
Sugar Rush slot Scatter symbols: There are two scatters in Sugar Rush, the Cupcake "Bonus" symbol, and the Candy "Scatter" symbol.
Three or more Cupcake "Bonus" symbols on an active line will trigger the Candyland Bonus.
Three or more Candy "Scatter" symbols will trigger the Free Spins feature.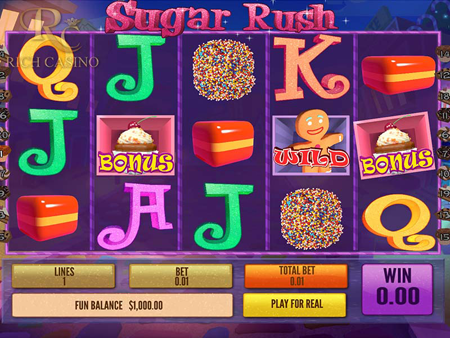 Sugar Rush online slots Candyland Bonus feature is triggered by three or more Cupcake "Bonus" symbols anywhere on an active pay line. A bonus scene will appear with brief instructions and the start button.
There are up to 7 levels or stacks of play during the Candyland bonus game. In level one, a pastry will swing back-and-forth over a peg. The object is to land the pastry over the peg.
Click on the "DROP!" button when you wish to drop the pastry.
Each successful stacked pastry or cupcake can award bonus points.
Evil pastries or cupcakes (the black ones) will award nothing but an "X".
The bonus game ends when two black pastries appear.
At the end of the Bonus, points are tallied, turned into cash and added to the game's balance.
The more Cupcake "Bonus" symbols that trigger the Candyland bonus, the higher the payouts can be: Win up to 3,000 bonus point when 5 cupcakes trigger the bonus, win up to 1,800 bonus points with 4 cupcakes, and win up to 600 bonus points with 3 cupcakes.
Candyland Bonus Hint: Be careful not to miss the stack when you drop the pastries; bonus points are subtracted with each miss.
Sugar Rush slots Free Spins feature is triggered when three or more Candy "Scatter" symbols appear anywhere on the reels. The more scatters that appear for the trigger, the more free spins you will win.
20 free spins are awarded when 5 candy scatters appear.
15 free spins are awarded when 4 candy scatters appear.
10 free spins are awarded when 3 candy scatters appear.

We are ready to take things to another level, by bringing you exclusive bonuses and promotions that are sure to curb your enthusiasm and fuel your appetite for high quality casino games!
As a first incentive, 21Dukes Casino will give you a free $15 sign up bonus as soon as you register an account!


Our special welcome offer will definitely make your stay worthwhile, so join us on this exclusive cruise and set sail towards that big jackpot! We will grant you a 350% bonus for your 1st deposit, a maximum of $3,333 being granted for a $1,000 deposit! Also, a 250% bonus for your 2nd one and a 200% bonus for the 3rd deposit will make your gaming experience truly exquisite. We are the experts of giveaways who keep you hooked on the big prizes!
Your first deposit will also automatically enroll you in a New Members Special Raffle that features one $500 and two $250 cash prizes! The winners will be announced at the end of the week.