Your Next Disney Vacation Could be free!

Win a Trip to Disney World Florida
Your Next Disney Vacation Could be free!
This incredible free offer could see you enjoying 3 days and 2 nights in the land of dreams and magic. For your free entry into BingoFEST amazing Magic Disney world trip raffle, simply enter the code MAGIC2015 under My account > Bonus section after placing your very next deposit. You will automatically be entered into the raffle to win this incredible Walt Disney World Florida break.
This offer won't last forever, make sure to claim your free BingoFEST Magic Disney world trip raffle ticket before midnight EDT on Tuesday September 29th!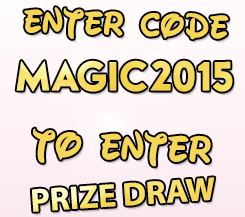 Terms & Conditions Apply:
Players must enter the code MAGIC2015 under My account>bonuses after next successful deposit to receive one free raffle entry.

Offer ends at midnight EDT Tuesday September 29th.

Prize can be exchanged for $500 Cash credited to your Bingo Account.

Winner will be announced October 1st at 10:00AM EDT in chat rooms – also contacted via email and phone.

Winner must provide picture and quote to claim prize.

Prize doesn't include plane tickets or transport to Florida.

Promo limited to one entry per player.

About BingoFEST
BingoFEST Mission: Providing huge prizes, first class service and a secure gaming environment, BingoFest continually strives to be the best in online bingo for discerning bingo enthusiasts.
Our Standards: BingoFEST understands that to provide the best service in online bingo you have to bend over backwards for all of your members.
All members are seen as VIP

All members deserve prompt and courteous attention to all help requests

All members are to receive an equal chance at winning
Based on our understanding of our members needs, we guarantee that every individual at BingoFest will receive first-class entertainment.
Get answers to Frequently Asked Questions in the FAQ section. Want to know more? Visit Contact Us to get connected to the right person.