Elvis Lives $5,000 Fullhouse min $500 at CyberBingo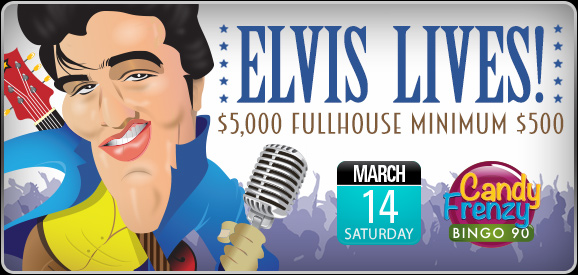 The King of Bingo
When it comes to incredible B90 Bingo Fun the King of Bingo won't be beaten, with fun, excitement and fabulous cash prizes guaranteed.
Get ready for some Rock 'n' Roll B90 bingo fun at CyberBingo on Saturday March 14th in the Candy Frenzy Bingo 90 room as the king of Bingo returns with his incredible Elvis Lives $5,000 Fullhouse min $500 game.
This incredible game plays at 5:00PM EDT, offering you the chance to win a fantastic $5,000 cash prize for just $0.50 a ticket. The prize pot starts out as an incredible $5,000 fullhouse prize. If it's not won by the 41st ball called, the prize pot slowly drops with every number called until it is won or reaches a minimum of $500. With a fantastic cash prize guaranteed, join the king of Bingo for the best in B90 Bingo fun!
More chances to win
The CyberBingo  King of Bingo has a special offer for his fun loving fans, an incredible Buy 8 Get 4 Free on all tickets to his Elvis Lives $5,000 Fullhouse minimum $500 game.
Simply select 12 cards of your choosing at CyberBingo and you will only be charged for 8. That's even more great chances to win a massive $5,000 in the King of Bingo's great game.